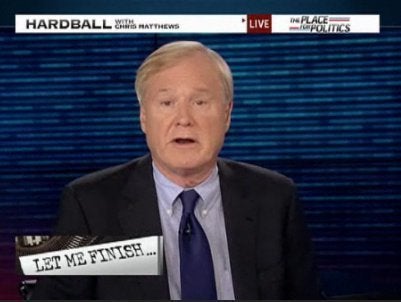 If Chris Matthews's 2008 self could see him now.
Matthews said Tuesday night that Clinton's political achievements could have a lot to do with the string of women seeking high-profile political office in the 2010 election cycle (h/t/ Mediaite).
The "Hardball" host pointed to the plethora of prominent women candidates in Tuesday's primary — from Carly Fiorina and Meg Whitman in California to Nikki Haley in South Carolina — as evidence that "politics is increasingly the place for women."
He then connected their respective races to Hillary Clinton's decision to run for the Senate and the presidency:
Here's a fact to remember: Hillary Clinton would not have been such a strong contender for the Presidency in 2008 if she had not had the courage to run for the Senate in 2000. That took her to the highest level of political competition. It could well be that her strong showing is what's inspired these other women to test their mettle in the ring this year.
During the 2008 primary, Matthews routinely faced allegations of sexism, most notably after he claimed that "the reason she's a U.S. senator, the reason she's a candidate for president, the reason she may be a front-runner is her husband messed around."
Related
Popular in the Community