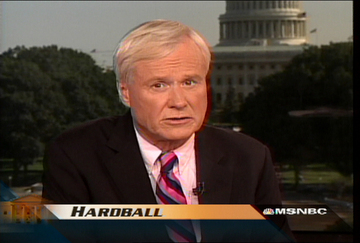 Last Tuesday — wow, seems so long ago, doesn't it? — we noted with approval the pink-on-pink ensemble of one very stylin' Chris Matthews on MSNBC. We were so impressed that we actually prevailed upon MSNBC spokesperson Emily Marx to send us a screengrab so we could link, lest the image of Matthews in blazing, blushing pink be lost to the ether.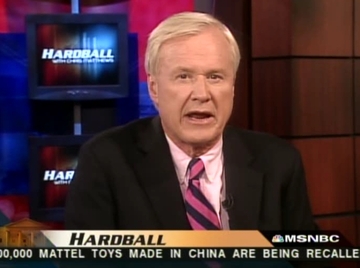 But we didn't have to worry — because there he was, the very next night — in the very same outfit! We blinked, rubbed our eyes, looked again — was this a Hardball rerun? No, because they were discussing the day's news. Was it maybe a different tie? Thanks to Emily's promptly-provided screengrab, we were able to ascertain that it was indeed one and the same. The blazer may have been different — dark brown? black? Harder to tell than bold pink stripes — but the shirt and tie were the same, right down to the little buttons holding Chris' collar in place. What was the deal? So we did what any serious journalist would do - we asked:
Hey Emily, I noticed something strange on Hardball yesterday (Wednesday). Chris Matthews was wearing the same shirt and tie he'd been wearing the day before (Tuesday). Am I crazy? Did he do the walk of shame in between or something? Please help!
Hey, if Chris Matthews is getting some, we want to know. We sent this on Thursday night, and Emily responded Friday morning that she would look into it. Friday afternoon, she got back to us with this response:
Hey Rachel - Chris thinks the pink shirts bring out his tan!
...and we're bringing it to you now. So, mystery solved! Chris Matthews thinks pink brings out his tan, especially on consecutive days! We approve, we think wearing pink sends a strong signal of confidence in your masculinity. Also, it's pretty.
Related
Popular in the Community