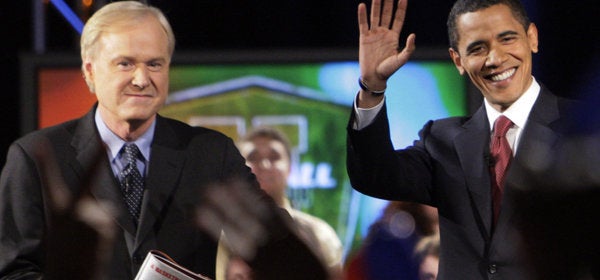 Update 4:40 PM: Matthews had denied reports that he's hiring staff for a Senate campain in a statement posted on FiveThirtyEight.com, the site that originally reported the news.

"It is absolutely not true," said Matthews, in a statement.
[EDIT -- 8:26 AM. I am changing the reporting and headline slightly to more cautiously reflect what our sources are telling us. Matthews, we have strong reason to believe, is hiring staff for a run at the Senate, although there have certainly been candidates in the past who have staffed up but subsequently elected not to run. -Nate]
FiveThirtyEight's original report:
Chris Matthews is in.

FiveThirtyEight has been hearing this for some time, but it took a trip to Georgia among the Georgia-runoff-congregated and well-connected Obama organizer throng to confirm.

According to multiple sources, who confirmed the Tip O'Neill staffer-cum-MSNBC host has negotiated with veteran Obama staffers to enlist in his campaign, Chris Matthews will run for United States Senate in Pennsylvania in 2010. Matthews, 62, will run as a Democrat. Arlen Specter, the aging Republican incumbent, will be 80 if he chooses to run for re-election.
Recent polls suggest that Matthews will have a hard time unseating Sen. Arlen Specter. Quinnipiac gives the Republican incumbent a double-digit lead:
In an early look at the 2010 U.S. Senate race, Republican incumbent Sen. Arlen Specter leads TV commentator Chris Matthews, a possible Democratic challenger, 45 - 33 percent. Sen. Specter leads 72 - 9 percent among Republicans and 45 - 27 percent among independent voters, while Matthews leads 55 - 25 percent among Democrats.

Specter gets a 62 - 25 percent approval rating and by a 56 - 23 percent margin, voters have a favorable opinion of him.

For Matthews, 60 percent say they don't know enough about him to form an opinion.
Leading the pack of prospects -- at least in celebrity -- is Chris Matthews, the MSNBC "Hardball" host and a former Capitol Hill Democratic staffer. The Philadelphia native has been toying with a run for months, and this week he sat down with state Democrats to discuss the prospect of taking on the five-term GOP senator.

Others considered in the mix include Rep. Joe Sestak, who is sitting on $3 million in campaign funds; state Rep. Josh Shapiro; and U.S. Rep. Allyson Y. Schwartz, a two-term Philadelphia area lawmaker who has moved up quickly on the Hill and has a Rolodex full of prospective donors from her unsuccessful 2000 Senate run. "We'll see," she said about a repeat bid.

"There are a lot of compelling reasons why serious Democrats would aspire to run in 2010," said Pennsylvania Democratic Party Chairman T.J. Rooney, who said Matthews had been in Pennsylvania Monday meeting with other Democratic leaders.
Popular in the Community