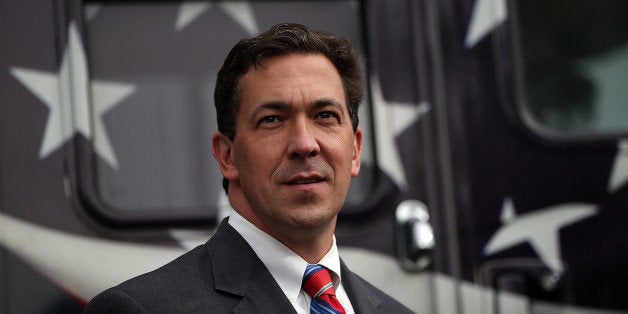 JACKSON, Miss., Aug 12 (Reuters) - The Tea Party-backed U.S. Senate candidate in Mississippi challenging his loss in the June Republican primary has moved to have his own lawyer's vote in the election stricken on the grounds that it was tainted by a poll worker.
Chris McDaniel, the challenger, lost in a runoff to incumbent Thad Cochran by some 7,700 votes, but said in a challenge filed last week that thousands of irregular or illegal votes were cast and that the result should be overturned.
The state Republican Party declined to hear the case, leaving him the option of taking the matter to court.
McDaniel attorney Mitch Tyner's name appeared on a list of irregular votes filed as an addendum to the complaint. Also listed was his wife, Sloane Tyner.
The pair voted in the Jackson suburb of Madison, where McDaniel's camp maintains that improper writing in the poll book, in which voter records are kept, effectively invalidated dozens of votes.
"We turned every single page and every single page had lines through it, lines crossed through names, had words written outside the columns," said McDaniel campaign spokesman Noel Fritsch, who added that he personally reviewed the book in question.
McDaniel says some 15,000 ballots were illegally or improperly cast in the runoff, many of them by people ineligible by virtue of having voted in the June 3 Democratic primary.
Jordan Russell, spokesman for the Cochran campaign, said the inclusion of McDaniel's lawyer on the candidate's list of invalid voters underlines the flimsy nature of the challenge.
"This is the perfect example of the lack of seriousness in this challenge, which is clearly just a political stunt," he said.
Tyner did not immediately return messages seeking comment. (Editing by Jonathan Kaminsky and Eric Walsh)
REAL LIFE. REAL NEWS. REAL VOICES.
Help us tell more of the stories that matter from voices that too often remain unheard.
BEFORE YOU GO
PHOTO GALLERY
Senate Seats Up For Grabs In 2014