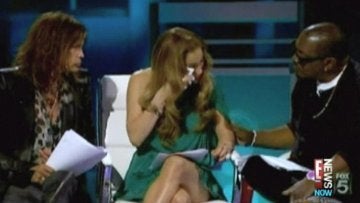 Oak Forest's Chris Medina captured the hearts of "American Idol" judges and fans when he auditioned for the show last month, which made it extra difficult for "Idol" judge Jennifer Lopez to tell him he was cut on Wednesday night's episode.
Medina, a 27-year-old barista who has played in Chicago-area bands for more than a decade, became an "Idol" sensation early on. Medina's fiancé Juliana Ramos was in a serious car accident in 2009, just weeks before the couple's wedding. She was left with brain damage, and the wedding has yet to occur.
Medina, who has been caring for Ramos since the accident, sang The Script's "Breakeven" during his audition, and gained national recognition. Not only were fans hoping for Medina's success on "Idol," but hoping for Ramos' full recovery.
Friends, family members and fans of Medina have been gathering weekly at Bourbon Street, a bar just south of Chicago, every week to cheer him on.
"It's been very surreal and almost resolving in a way," Medina's friend Mary LiFonti told HuffPost Chicago. "Not that any of this fixes the tragedy that has taken place, but after seeing him for more then a year going through everything that he has, it's great to see some positive energy in his life, Juli's life, and her family's lives."
Unfortunately, Medina's time on "Idol" was cut short. During a pre-recorded episode that aired Wednesday night, the judges said goodbye to the local hero--and Lopez had an on-air breakdown. (Scroll down for video)
"I just couldn't believe I had to deliver this news to this person who had been through a lot--and is going through a lot...I felt like I didn't it do it well enough to send him into where he needed to go in his life and be OK," Lopez told E! Online. "And I didn't want to be a part of that moment in his life."
Medina took the news well, and won't let the "Idol" defeat stop him. Medina's new song "What Are Words" will be available on iTunes Thursday night, and he is slated to appear on "The Tonight Show" with Jay Leno Friday.
"Tried my hardest guys," Medina wrote on his Facebook page Wednesday. "Thank you for all your support...and don't worry... it's not the end of me."
LiFonti said the exposure has not changed Medina, and he remains as committed to Ramos as ever.
"He is still the same Chris Medina, before 'American Idol,' that talks about Juli's progress constantly and never once complains. Never," she said. "So, for me, this has been an amazing experience because I get to watch two people I love share their love story and it gives me hope that Juli's recovery process will speed up tremendously."
WATCH Wednesday night's emotional goodbye:

Popular in the Community