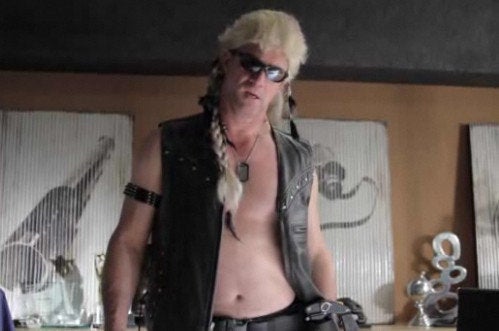 A few years ago, the Enough Project helped the producers and writers at NBC's "Law & Order: SVU" do an episode in which the central character was a former child soldier in Joseph Kony's Lord's Resistance Army, or LRA. The cast of "Law & Order: SVU" was deeply affected by the backstory of the LRA. Mariska Hargitay went on to become an outspoken advocate against sexual violence in Central Africa. Chris Meloni decided to get involved in a different way, but you have to see it to believe it.
Check out the video and keep reading below to find out what you can do to support efforts to end the LRA:
Several months ago, we teamed up with the folks at Funny or Die to create this video about ending the LRA and going after its now infamous leader, Joseph Kony. We want to get as many people as possible involved in helping to support a solution to this crisis, which over 25 years has led to the displacement of millions of people in four countries in Central Africa and the abduction of tens of thousands of kids to be child soldiers or sex slaves. We want people to get involved because Africans from throughout the region are forging a solution, and they just need a little support.
President Obama sent roughly 100 U.S. military personnel to help the governments in the region to enhance their strategy to arrest Joseph Kony and bring an end to the LRA. To ensure that the advisors are successful in their support mission, the Obama administration should:
encourage regional or other African governments to deploy more special forces for the American soldiers to partner with;
provide the intelligence capabilities to pinpoint Kony and his commanders' locations in real-time;
encourage European states to pony up helicopters and other transport to enable the regional forces to act quickly on that intelligence;
intensify diplomatic efforts to allow the Ugandan army to undertake anti-LRA operations in Congo, which is quickly becoming a safe haven for the LRA;
insist on accountability for any human rights or other violations committed by the forces pursuing the LRA; and
commit for the long haul to supporting communities in their efforts to rebuild and recover.
There is so much we can do to help support efforts to end the LRA and to help the communities affected by the conflict. Go to enoughproject.org/stopkony to learn more and find out how you can get involved. And please share our new video, "Kony Hunter with Christopher Meloni," using Twitter hashtag #KonyMeloni.
John Prendergast is Co-founder of the Enough Project, a project at the Center for American Progress to end genocide and crimes against humanity, and co-author of Unlikely Brothers.