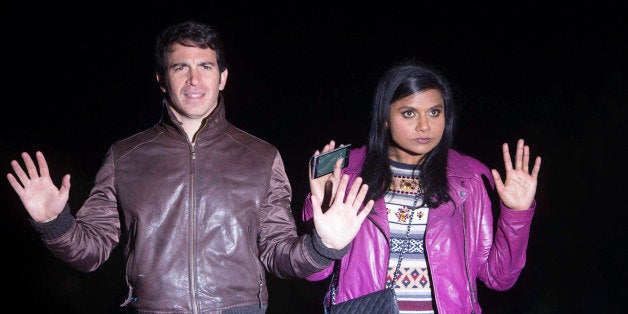 After months of waiting to find out what will transpire in our favorite sitcom relationship (Dr. Mindy Lahiri and Dr. Danny Castellano), the day has arrived and "The Mindy Project" is back on the air. In our state of impatience, HuffPost TV caught up with Chris Messina during the last few days of shooting on set to learn about his own comedy insecurities, how the role of Danny Castellano was tailor-made for him, and why he got the crap kicked out of him as a kid. Highlights from our conversation below:
The Huffington Post: Mindy Kaling is involved in every detail of this show. What's it like working so closely with a person running everything, including the writing, acting and editing?
Chris Messina: I have so much respect for what she has to do. Sometimes I don't quite grasp it because I have the luxury of coming and going. But it's a 24/7 Mindy Project for her. But she keeps very level headed and she's extremely relaxed, at least on the outside. I don't know what's going on on the inside. And I think that's one of the reasons you forget she's doing nine thousand things at once.
Mindy has said that the "bar is very, very high in terms of being a truly funny show." What kind of pressure do you feel working on this show?
I don't feel pressure, but I'm not involved in it that way. I have my own neuroses about how not-funny I feel. On the show, I often feel like I'm on Mars, because it's just not what I grew up doing or training in or thinking about. I have my own pressure, but I think that's just neurotic actor bullshit stuff. All of the actors are so funny, and so I always kind of am juggling that.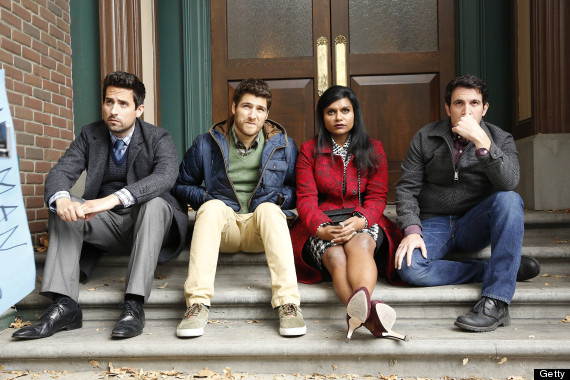 Mindy told us that she had seen you in lots of things, and that "Away We Go" made a huge impression, but she hadn't actually seen you in many comedies. Does comedy come naturally to you?
This kind of comedy is new for me. I was in "Vicky Cristina Barcelona" -- I was lucky to be in that one -- and not that I was hysterical in it, but the movie had a lot of laughs. Network comedy is different because there are more jokes. There's 20 minutes of television and a lot of jokes to deliver. In a movie, there are funny moments and situations, or funny lines, but there aren't jokes to deliver. That's when I get the most uptight or nervous. When there's a great-written joke and it's super funny, but I'm not sure how to deliver it.
What is your internal process like in that scenario? Do you rehearse a lot?
There are so many ways to do it. I find that with this show, the looser you are the more relaxed you are, the better it tends to be. It's like a batter that's trying to hit a homerun. That goes for all acting. The more you try to hit it out of the park, you never do. The best thing for this show is to enjoy it, have fun and laugh. Sometimes, in that relaxation, you're lucky to stumble upon delivering a joke with ease and precision and having it land.
How did it come about that your character is secretly an amazing dancer?
I stupidly told them that I used to dance when I was a kid. My mom was a dance teacher so I did everything, ballet, tap, jazz. I think I started in the third grade and did it up until about ninth grade. I got my ass kicked so much I eventually stopped. I got burnt out. I used to love it so much though. I don't know why I told the writers. I think they might have asked if there was anything I was good at and I probably couldn't think of much, and so I said ugh I used to dance. And then a couple days later it was in an episode.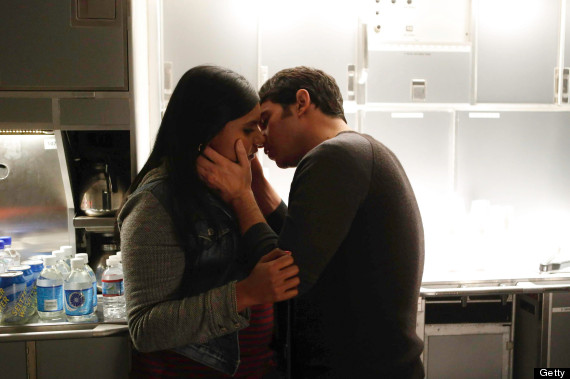 Everyone wants to know about the big kiss (finally!) at the end of Season Two between you and Mindy. Did you guys do a ton of takes to get it right?
I don't recall anything out of the ordinary. There always are a lot of takes. The preparation comes in like the 40-something episodes that we had already made together. That's the fun thing about television and the luxury of it. As you go through each episode, whether you know it or not, you're learning about the characters.
There was so much sexual tension leading up the kiss, and a kind of will-they-won't-they… and really a love for one another but also the fighting and bickering. I guess the preparation was all those episodes and knowing that Danny is really in love with this woman and fighting his fear of relationships and commitment and not wanting to fuck it up, that he makes this kind of charge at her. He had to kind of fight his own fear, because he's been through a divorce and already screwed up one relationship really big?

I love playing Danny Castellano. Any actor is very grateful when people respond to their character, but it's really all them. They are great writers and they have created a great character with Danny. They give me these gems. Any actor who was lucky enough to get the part was going to have fun with him because they really write great stuff.
Did you have to audition for the role?
I did. John Krasinski called me and said you know Mindy Kaling has a show and she's interested in you. I had done "Damages" and I was really interested in television. Playing a character for so long was exciting. I read the script and loved it but was super scared of the commitment of network television. I have been an actor who has kind of gone job-to-job. A couple weeks here, a month there. So to be committed to one thing for so long felt scary me. And on top of it, there was the comedy.
I went in and read with her, really to kind of see how we were gelling and how the character sounded. The character was very different when we first started. His name was something like Clayton Brooks. He was kind of grumpy and told Mindy exactly how he felt; telling her to fuck off and he had this arrogance to him. He wasn't exactly the right fit. We started talking on the phone about me and what my strengths were and what I could possibly bring to the show. Then she went off and literally like a day or two later, she called and she had Danny Castellano. I was like oh my god. I knew she was so talented and I was a fan of her's from "The Office," but I couldn't believe it.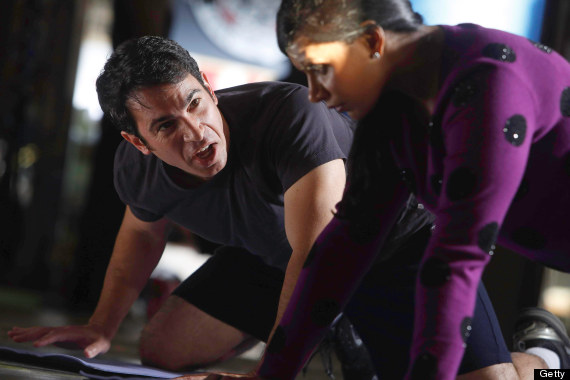 When you read for a show, do you only read the pilot? Is that typically all that's written?
Yes that's the thing about TV. They can tell you anything--and they will tell you anything. You really have to trust that the creators are smart and will come up with something cool. And you have to be open to change no matter what, because if the viewers watching it aren't into it or the studio or network doesn't like it, now you've signed this contract and you're on a show that's entirely different than what you signed up for. I think that's the problem with television and what is scary about it for actors. You really don't know what you're going to get. Network TV versus cable is so different. You might not know what you're going to get, but you're there for only 10 or 13 episodes. But these are long. We have been shooting from July until just about a week ago [early March]. But what a great time to be on television. I feel very lucky to have a job. A show like "True Detective" is getting it right.
You've been a working actor in Hollywood for years and have been on so many movie and television sets. What's most fun about working on "The Mindy Project"?
This set is really fun. I think that I've learned a lot about relaxation on this show. Mindy and I get to explore the most, we have usually the most to do together, which I'm grateful for and I love my scenes with her. I love acting with her. I love acting with every one of them. I've never really worked with such a group of relaxed actors before. That's the key to good acting. If you go back and read any great acting book, it's really about relaxation. It's so hard to relax sometimes because you want to be good. You want to be liked. You want to be seen. And you get uptight.
But we all laugh a lot. I know when I'm laughing, it's probably annoying to the crew because they all have families and lives and they know too that when I start laughing, it's going to be a little bit of time before we can move forward. But I know selfishly when I'm laughing that I'm in a really good place where something good might happen.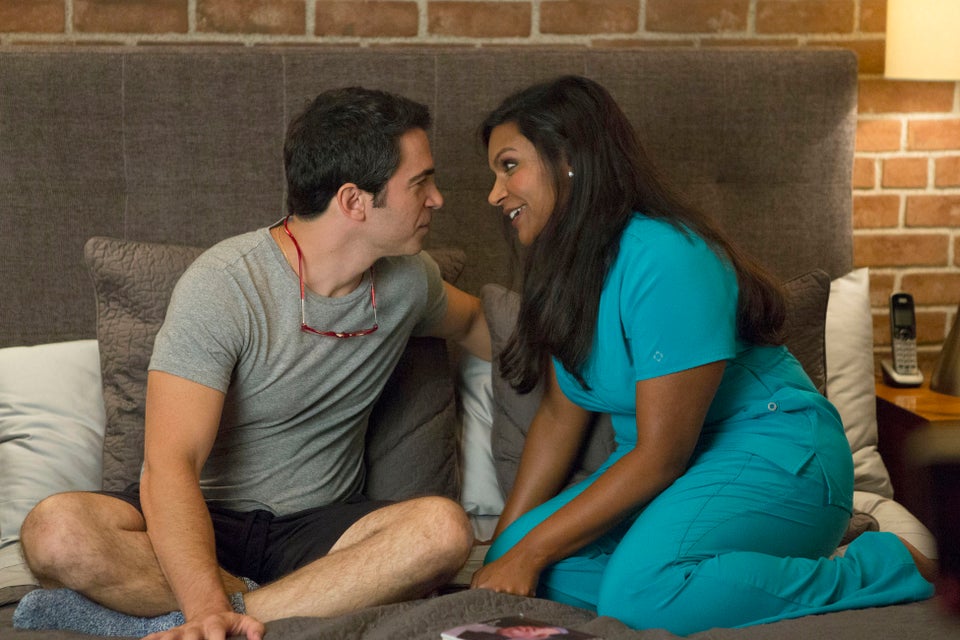 "The Mindy Project" Season 1
Popular in the Community