In a Saturday essay titled "Scathing," Nogy wrote that GOP lawmakers who voted for the Medicaid expansion betrayed the party, and he suggested that the Second Amendment could offer a solution to dealing with those legislators:
We need to make a public statement from our groups that we no longer support those who turned on us, that we will NOT be working to their re-election, that we will be actively seeking replacements, and perhaps even working towards recall. We as the Party have to stand up and say 'no more – you were given a job, you campaigned on the promise to do this job, you had the ability to do this job, you had the votes each time to do this job, and yet for no legitimate reason you betrayed the trust put in you by the electorate and you are now completely and permanently politically finished.' We need to let those who will come in the future to represent us that we are serious. The 2nd amendment means nothing unless those in power believe you would have no problem simply walking up and shooting them if they got too far out of line and stopped responding as representatives. It seems that we are unable to muster that belief in any of our representatives on a state or federal level, but we have to have something, something costly, something that they will fear that we will use if they step out of line. If we can't shoot them, we have to at least be firm in our threat to take immediate action against them politically, socially, and civically if they screw up on something this big. Personally, I think a gun is quicker and more merciful, but hey, we can't.
Nogy on Sunday issued a clarification, saying he was not calling for violence. "While we most likely won't try to kill them or harm their families, they should be much more certain of our response than fearful of the actions of those who will not identify themselves," he said.
The state police investigation into Nogy's essay was launched after the newsletter became public, NWA Online reported.
Chris Nogy wrote in a Facebook post Monday that his essay was "misunderstood" and was not "a manifesto." He explained further that his reference to the Second Amendment "was added as punctuation, defining the tool as functional only if the threat of it's [sic] use is credible." He also said that his article was directed only at active Republicans in Benton County, and was not meant for a national audience:
For those who have misinterpreted my editorial as calling for lethal violence in dealing with elected officials, I apologize for writing this in such a way as to be misunderstood. Understand that in being personally involved in so much of the party process for years, and putting so much work into the election of candidates who then turned and voted counter to the promises they made to the voters, I felt the need to write a forceful and scathing letter to the members of my local committee, not to make this a national soap-box issue. And understand that need was born out of frustration, not uncontrolled frustration, but significant frustration nonetheless. I am deeply sorry if my words hurt anyone specifically, but I did not expect this to go beyond the local committee, and I expected it to spark some very serious and involved conversation and debate in that group. It was not meant for public consumption, and I would have written it differently if I was not writing to people who have known me for quite some time, know my family, and understand my frustration.
The Arkansas Times reported that Leigh Nogy believes her husband's essay has been taken out of context. She edited the newsletter and later posted a explanation on the county GOP's Facebook page that has since been taken down:
I made a bad decision in publishing this letter. I was stressed beyond my norm and was on a deadline. My heart told me this letter sounded scarey... I admit that, but because I had read the whole content of the letter, I got what he was saying. Unfortunately, in my rush I didn't even begin to think about the possibility of the media taking it out of context.
Before You Go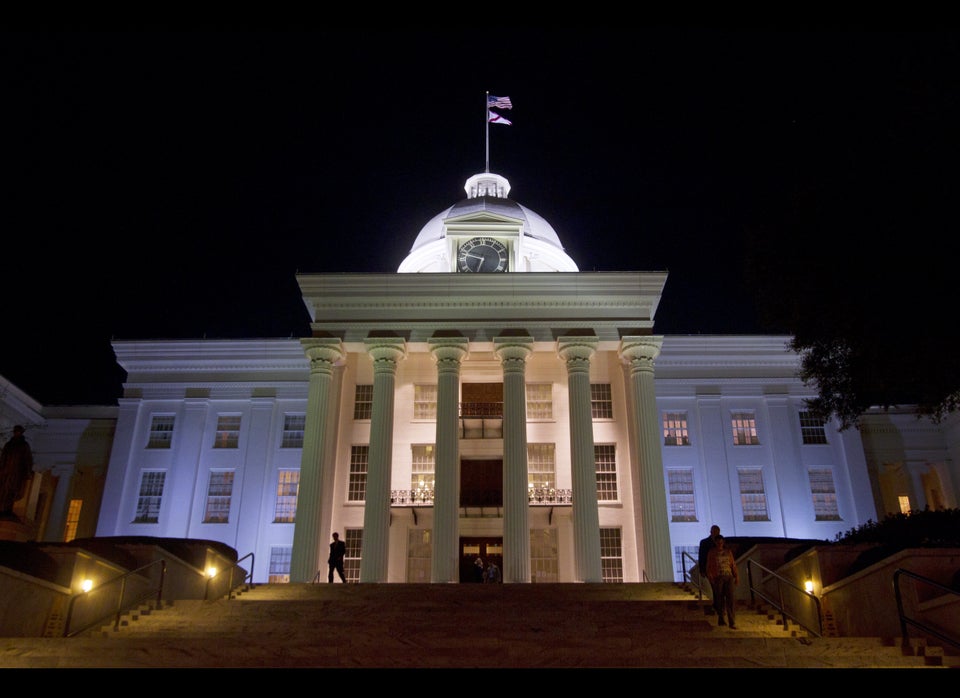 U.S. State Capitol Buildings
Popular in the Community