 Why do I care so much about rainforests? Most people know that forests are the lungs of our planet, literally playing a critical role in every breath we take. And that they're also home to incredible animals like the orangutan and elephant, which will go extinct if we keep cutting down their forests. But it's the essential role that rainforests play in protecting our climate that feels particularly important to me these days.
As a New Yorker, last year climate change hit home like never before. And so my concern for the health of our rainforests is stronger than ever before, because these forests hold a key to protecting the health of our climate.
Here's the deal. We need healthy forests if we want to protect our climate. As the climate changes, forests become more vulnerable to insect outbreaks, droughts and wildfires. Simultaneously, when our forests are destroyed, their carbon is released back into the atmosphere, further impacting climate change. It's a horrifying one-two punch.
To put this in real terms, take the gorgeous archipelago of Indonesia, which has the third largest rainforest area in the world. The scale and pace of deforestation in Indonesia is so extreme that the country now puts out more climate emissions than all other countries except the U.S. and China.
That's why this Valentine's I am doing everything I can to show some love for the rainforests (and the groups protecting them).
I've been a supporter of a group called Rainforest Action Network (RAN) for the last many years. They are one of the main organizations working to protect our forests and our climate... and getting results. I see them a bit like the James Bond of the environmental movement -- savvy, nimble and hard-hitting. They go after the corporations that do the most harm to our rainforests and climate, and pressure and inspire them to change.
They had some incredible victories this year. They worked with Disney to change everything about the way the entertainment giant uses paper to ensure the company goes rainforest-free. Quite a move for a $4 million dollar organization against a $40 billion dollar company.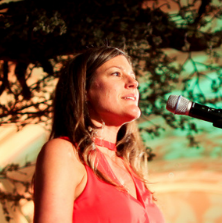 RAN has also had an incredible loss. My friend and executive director of Rainforest Action Network, Becky Tarbotton, died tragically at the end of last year on vacation in Mexico with her husband. Becky was a force of nature. I will so miss her grace, her spunk, and her courage. And I know that without her we all need to do more to protect the world's forests than ever before.
This Valentine's weekend I have an easy way for you to join me in showing some love for the rainforests, and having a fabulous time while doing it. If you're in New York this Sunday the 17, join me and friends Whoopi Goldberg and Shawn Colvin for Eco Rock -- a benefit party to support Rainforest Action Network. It's hard to say no to a party with a purpose.
If you don't live in New York or can't make it, than check out the online auction I've set up with irresistible items like guitars signed by Bonnie Raitt, Sting, and Tim McGraw, and designer handbags signed by the one and only Sarah Jessica Parker.
We can all do more to help protect the world's critical rainforests this year.
This Valentines is the perfect time to start.
Popular in the Community