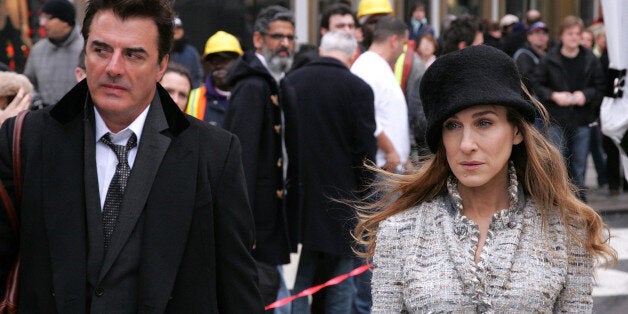 "One of the things I tell people is that [Big] never tried to pretend he was anything other than what he was," he said. "It was [Carrie] who tried to pretend he was something he wasn't. He was always honest about himself -- he never cheated on her. The relationship just didn't work, and he went on to get married while she went on to … how many boyfriends did she have? She was such a whore! [laughs] There's a misconception that Carrie was a victim of him, and that's not the case -- she was a strong, smart woman."
"It's become its own nightmare -- it's become Dubai, which is why I don't spend much time there anymore," Noth said. "It's full of tourists, Times Square is Disneyland ... It's almost like New York became the [fantasy] city that 'Sex and the City' depicted, which I find particularly boring."
He compared "Sex and the City" to HBO's other series centered around female friends living in New York, "Girls." While "Sex and the City" was "materialistic, with the fashions, shopping and apartments," he said, "Girls" actually "shows the reality of the struggle" of what it's like to live in New York.
Noth, however, remained coy when speaking with news.com.au.
"Sure, I've heard rumors, but they've been sayin' that s**t for 10 years," Noth said of the tweets. "It'd be a great thing, but for now it's all just Tweety-pie s**t."
"Sex and the City" writer Jenny Bicks, however, gave Noth some schooling on his interpretation of Mr. Big.
"[H]e seems to have forgotten that he may not have cheated ON her, but he certainly cheated WITH her when he was married and Carrie was single," she said. "So, I would say that's kinda slutty of Big. And also, not cool. Not cool at all. He's lucky she married him in the end."
UPDATE 2, Oct. 16: Chris Noth's manager has responded to HuffPost Entertainment's request for comment with the following statement from the actor: "It's interesting that a show that was so fun and irreverent about everything has to be taken with such hysterical reverence when you talk to the media. Yes of course it was a joke, but I keep forgetting that you are not allowed to do that with certain media."
CORRECTION: This piece has been updated to note that Noth mistakenly referred to the locale of "Sex and the City 2" as Dubai and not Abu Dhabi.
Support HuffPost
The Stakes Have Never Been Higher
Popular in the Community