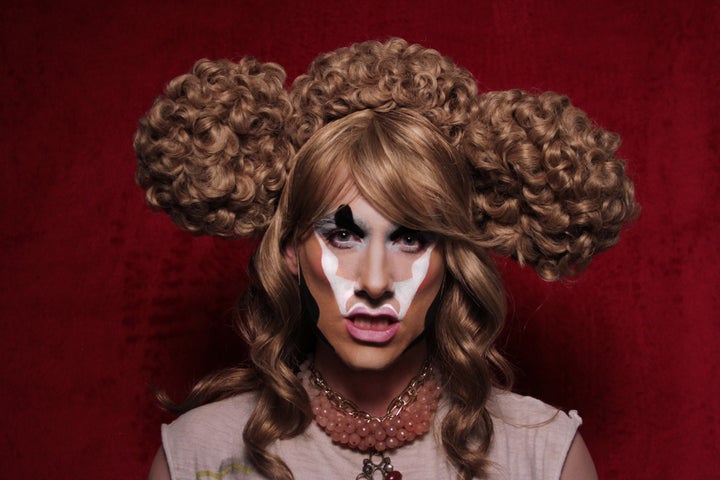 Over the past year, New York artist Chris Harris, who performs in drag under the name Chris of Hur, brought the Brooklyn queer scene a monthly performance showcase unlike any other called "DOODz."
Harris, a finalist in Brooklyn's Mrs. Williamsburg pageant, had a distinct vision when he began the process of curating the first "DOODz" line-up twelve months ago, seeing few spaces for a showcase focused on his personal aesthetic -- think more soul and punk, less diva-esque female impersonation.
"DOODz" moved locations since its inception, now operating out of The Living Room in Brooklyn's Williamsburg neighborhood, a space with a dinner theater vibe that puts the focus entirely on the performers. The Huffington Post chatted with Harris this week about the evolution of "DOODz," what the artist looks for when inviting performers to be a part of his event, as well as what we can expect from "DOODz" in the future.
The Huffington Post: What was your original vision for DOODz? How has it grown over the past year?
Chris Harris: I suppose my initial goal was to throw a queer-inclusive dance party that was more my aesthetic (soul/punk/rock -- no house/electronic or diva pop) and put on some smart, artful drag-centric performances at midnight. At the time of conception there really were only a handful of performers that I wanted to work with, but as I have been exposed to more performers and more performers have been exposed to my party, that list has grown tremendously. Also, the focus has really shifted to the show -- especially since moving to The Living Room.  It's now really a performance showcase, as opposed to a dance party, which is totally fine with me!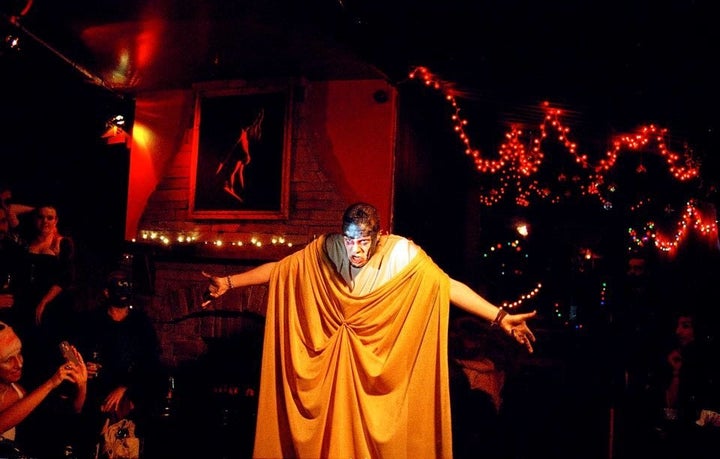 "DOODz" initially began at a "straight" bar. Why was it important to you to have this queer showcase take place somewhere besides a space traditionally understood as gay?
"DOODz" was never at a straight bar, or even a "straight" bar.  You can say, perhaps, that it wasn't a gay bar but more accurately, it was a safe, orientation-neutral space… an ally bar, if you will. The indigenous crowd was certainly predominately heterosexual but the staff and the scene itself was actively queer-inclusive, as in they went out of their way to include and nurture the queer presence.  (This is also true of its new home, The Living Room.) 
I have a lot of friends that are queer/trans and a lot of friends that are straight/non-queer, so when it came time for me to throw my own event I wanted to make sure that it would be a safe space for everyone. This might be particular to Brooklyn, but I have actually found that most standard bars here are more inclusive to gay/queer people than the gay bars are to straight/non-queer people. So when it came time for me to put together my party it just made more sense to avoid the gay bars. Also, I'm all about expanding the market for drag. I've certainly heard arguments that drag is specifically a queer art form, which I don't necessarily disagree with; that's certainly where it starts -- in the queer womb -- but ultimately it's still part of the larger universe and is therefore, I think, quite universal.
How do you curate the performers you feature at "DOODz?"
There are a lot of things I take into consideration when putting together the lineup. For instance, it's important to me to have diversity within the communication of gender. Also, I try to avoid picking performers because they are popular and instead ask myself, "Who isn't popular enough?" 
However, the thing I'm most attracted to in performers is irreverence. A performer can certainly take themselves seriously but they also need to have an ability to not take themselves seriously. The performers that do best within the "DOODz" setting can see things from both directions -- or at least the latter. 
What do you want "DOODz" to grow into in the future?
I have no specific plans for DOODz other than to keep doing it. I may expand the "brand" to include some other parties that pick up the dance party element that was left behind. Maybe I'll call it "CHIKz" or "BOOBz" or something like that -- we'll see.
"DOODz" will take place Friday, Oct. 9 at The Living Room in the Williamsburg neighborhood of Brooklyn. Head here for more information.
REAL LIFE. REAL NEWS. REAL VOICES.
Help us tell more of the stories that matter from voices that too often remain unheard.