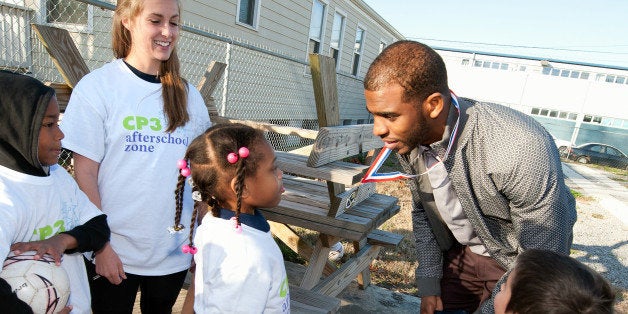 Working with the My Brother's Keeper program gives me an opportunity to look back through my life and realize how blessed I am to have had mentors and coaches who have helped me become the man I am today. My wife, Jada, and I are also using the advice, shared experiences and love that our parents and extended family have shown us to be the best parents we can.
My parents taught my brother and me about the importance of family. We watched them make sacrifices for us to ensure that we had a good education and understood the importance of keeping God first in our lives. I also learned the importance of discipline that has shaped me now that I am a parent.
My grandfather taught me about the importance of hard work and setting a goal and reaching it. He was the first African American owner of a gas station in North Carolina. My brother and I spent summers changing oil, rotating tires and learning to be respectful to his customers.
When I went to Wake Forest Coach Skip Prosser taught me about the importance of discipline on the basketball court. He shared with our entire roster the importance of playing like a team, trusting each other and understanding the importance of being a student of the game, so we could achieve greatness on an off the court.
My bother CJ has been at my side all my life. When I was drafted he was there and he continues to be a sounding board for me to talk to, bounce ideas off of and encourage me. He is always honest with me regardless if I agree with him or not. He is one of my most trusted advisors.
I have had teammates who mentored me like Chauncey Billups and Willie Green. They both taught me how to be a better leader, on and off the court.
And I have Doc Rivers as a coach and mentor. He navigates the waters for our entire team and is a constant source of advice, both from the perspective of being a player and a coach. He is always available and because he knows the pressures of being a player, he knows how to motivate each of us. Doc will tell you the truth, plain and simple. He doesn't mince words and because of what he has achieved in his career, you know you are getting the best advice from someone who can back up what he says. His guidance is priceless.
When I have an opportunity to mentor someone, I find the most important thing is to listen to them when they tell you about themselves. That will always give you an idea of what type of support they need. For example, at my basketball camps I always look for the young man who is a bit shy. He might stand back and you don't see him being confident in some of the drills we may be doing. I will make sure that I have time to talk to him during our drills and will seek him out during breaks and when we are having meals together. I listen to him and share stories about myself that I think he can relate to in his own life.
There are times when I will also look to mentor a young man who is a bit too confident, which can sometimes make his teammates and friends feel insecure or unimportant. That is an opportunity for me to share the importance of being humble and using ones talents to help others, whether it is on the court, in the classroom or other areas of his life.
I am proud to be a member of the NBA and as president of the National Basketball Players Association I get to see the kind of impact players in the NBA can have on their communities and on young people. That is why are working together to support President Obama's My Brother's Keeper initiative and helping to recruit 25,000 new mentors over the next five years.
We want mentors who are passionate and understand the opportunity they are being given to change and motivate young men. I continue to monitor myself as I know that young men are looking at what I am doing. I want to be my very best to make certain that my activities off the court and through my foundation, ensure that young men see the entire package.
This blog post is part of a series produced by the NBA in conjunction with NBA Cares Week. To see all the posts in the series, visit Huffington Post's Impact Sports page, which covers the intersection of sports and social good. For more information about NBA Cares Week, visit here.
Popular in the Community