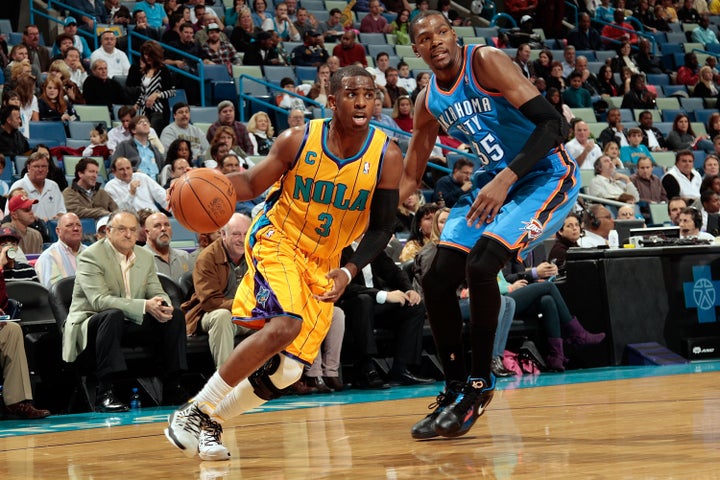 Tell me the team for whom New Orleans Hornets point guard Chris Paul be playing next season.
And, the survey says... The New York Knicks.
OK, 100 people were not asked about Paul's destination as was the case when Paul appeared on "Family Feud" during the NBA Lockout. In fact, it seems that only one person was asked. According to a report by Adrian Wojnarowski and Marc J. Spears of Yahoo! Sports, the four-time All-Star requested a trade to New York through his agent. According to Woj and Spears, Paul's agent, Leon Rose, also informed the Hornets' brass that he would not pick up the player option in his contract for the 2012-13 season, instead becoming a free agent at the end of this season.
New Yorkers have been impatiently waiting for Paul's arrival ever since Paul made a now famous toast at Anthony's wedding in July 2010. At that point, LeBron James had just opted to take his talents to South Beach while Amar'e Stoudemire had signed with the Knicks. All the superstars were in attendance at Melo's wedding in Manhattan and, according to the New York Post, Paul told the groom-to-be and Amar'e that "We'll form our own Big 3." Ever since, Knickerbockers watchers have been waiting for "Team Toast" to take the floor at Madison Square Garden.
Anthony forced his way to New York via trade last season -- using the same superstar tools that ESPN and Yahoo! report Paul is already utilizing. In New York, he teamed with Stoudemire to lift the Knicks into the playoffs for the first time since 2004. The lead guard on that squad was native New Yorker Stephon Marbury. Certainly, Knicks fans would welcome the sight of Paul donning the same No. 3 jersey that Marbury wore.
One of the owners' aims during the lockout was to restrict the ability of star players like Paul to be able to dictate their own moves, especially those that took talent from small markets to bigger ones. However, Zach Lowe at Sports Illustrated's The Point Forward blog describes in detail the loophole that would allow Paul to get to Gotham.
"It is just rumors; you can't control it," Paul told the Picayune. "It's always going to happen, and it's part of the game. I'm just happy to be back with my team."
Popular in the Community