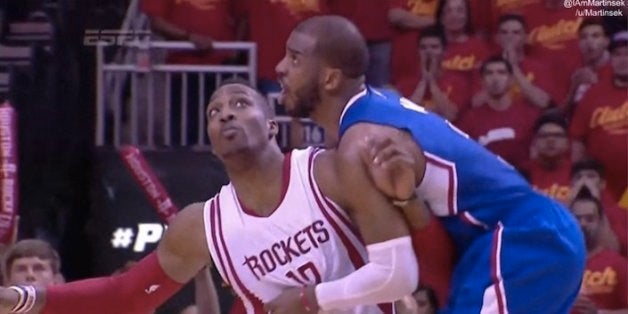 Chris Paul had a sad Sunday.
His team, the Los Angeles Clippers, capped one of the worst collapses in NBA playoff history with a 113-100 loss to the Houston Rockets in Game 7 of the team's second-round series, sending the team home for the summer after once being up 3-1.
But Paul, now all but officially the saddest superstar in the league, wasn't about to go down without a fight. Oh, nevermind. We meant he wasn't going to go down without jumping on Dwight Howard.
You have to respect Paul's willingness to do whatever it takes to win, but man, how funny is it to watch a multimillionaire jump on another multimillionaire for a piggyback ride? (Sorry, we mean "smart foul.")
Since we can't stop laughing, here are some additional angles:
If that wasn't enough unintentional comedy for one Sunday, Sad Chris Paul then decided to quote Ricky Bobby after the game. Yes, Ricky Bobby of "Talladega Nights: The Ballad of Ricky Bobby" fame. And he did so seriously:
"Ricky Bobby, like I said, if you're not first you're last," Paul said without laughing, on TV, in front of cameras everything, after the most devastating defeat of his life.
For reference, here's the line from the semi-decent movie:
Unfortunately for Paul, Bobby, played by Will Ferrell, notes the line is registered and trademarked. So perhaps Sad Chris Paul's Monday could be even sadder.
REAL LIFE. REAL NEWS. REAL VOICES.
Help us tell more of the stories that matter from voices that too often remain unheard.