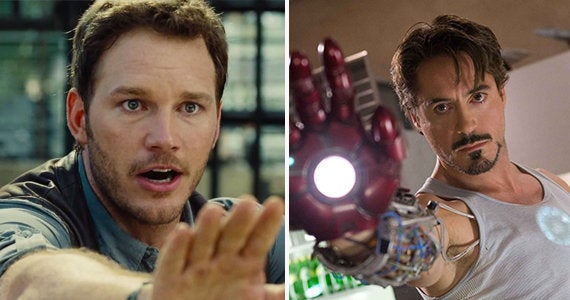 Just when you thought Chris Pratt's "Jurassic World" meme couldn't get any better, life finds a way ... 
A lot of people out there have been busy recreating the iconic raptor scene in the movie, but on Monday, Robert Downey Jr. tweeted his own version at Pratt and officially dropped the mic:
Wow, they definitely don't teach you about this in raptor school.
Then, because raptor Avenger training is all about mutual respect, Pratt sent back a pretty perfect response:
The picture of the Avengers and Pratt has actually been floating around the Internet for a little while, but now that it has recognition from both Pratt and RDJ, it's so worthy it could totally pick up Thor's hammer. 
The best part about it is it could even be a little preview for the next "Avengers" movie. Pratt plays Star-Lord in the Marvel films, and with the impending issues between Captain America and Iron Man in "Captain America: Civil War," his character seems like the perfect mediator, or at the very least he could introduce them to an awesome mixtape so they can both chill out.
Either way, you don't need the "Jurassic World" connection to see that this is a Twitter exchange 65 million years in the making.
PHOTO GALLERY
Chris Pratt's Sexiest Photos
To subscribe to our HuffPost Entertainment WhatsApp account:
1. Download WhatsApp on your phone.
2. Save this number, 347-334-1794, in your phone's contacts.
3. Text "POP" to that number via your WhatsApp account.
You can unsubscribe at any time by texting "STOP" to the same number.