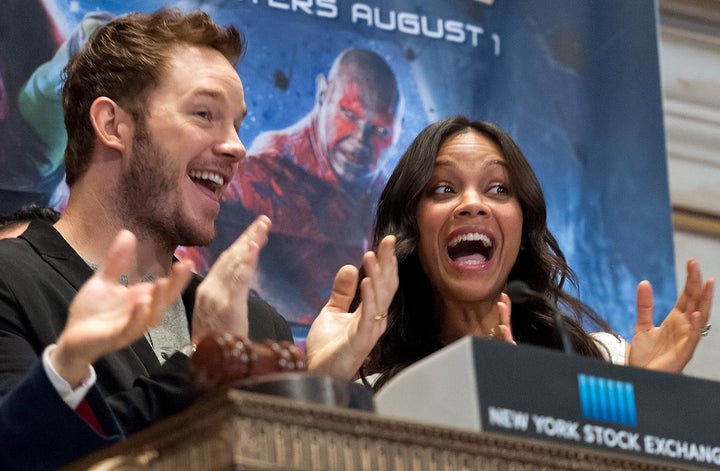 We used to just go to Chris Pratt's Instagram in hopes of seeing another shirtless gym selfie -- his last one was in 2013 and we're still recovering -- but nowadays the actor is all about using his words. 
Booooooooooo. Just kidding. We'll take what we can get. 
The "Jurassic World" star got fans all excited about his other blockbuster franchise on Tuesday night when he shared a photo (Is that purple leather we see?! ) of "Awesome Mix Vol. 2," the second mixtape belonging to Pratt's "Guardians of the Galaxy" alter ego, Peter Quill aka Star-Lord. 
In his lengthy caption, Pratt can barely contain his enthusiasm over filming the follow-up to his big break, "Guardians of the Galaxy Vol. 2" and admits to using a Thesaurus to articulate his feelings. 
Read the full caption below: 
Feels good to be back in action on Guardians of the Galaxy Volume 2!!! I can't even tell you how excited I am. Ok I'll try. I'm ecstatic. I'm bursting with joy. I'm overwhelmed by feelings of enthusiasm, joy, gratitude, conviviality, camaraderie, elation, exhilaration. I just used an online thesaurus for these words. I suggest trying that. That way instead of saying "I'm very excited" say, "I'm exhilarated." Never too late to learn words. The pen is mightier than the sword. I never got that. I could whoop someone's ass if I had a sword and they only had a pen. WAIT!!! Now I get it. Cause you could use a giant pen with a dagger on one end? And a gun on the other end? No? Whatever. Point is... Guardians of the Galaxy Vol 2. Is going to be the greatest spectacle film of all time. This is not.... bear with me... using online thesaurus..... Hyperbole! This is not hyperbole!
This is the second long-winded Instagram caption Pratt has posted recently. Last week, he took to social media to reflect on his tremendous journey from unknown actor to Hollywood heartthrob in a moving message to fans. 
It appears as if filming "Guardians of the Galaxy Vol. 2" is off and running, with stars Zoe Saldana and Dave Bautista returning to Atlanta to shoot the highly anticipated Marvel project. 
Director James Gunn shared a behind-the=scenes peek at the rehearsal process on Tuesday, gathering most of the guardians (and Kirk from "Gilmore Girls") in one photo. 
Click here to see all the words we'd use to describe Chris Pratt. 
PHOTO GALLERY
Celebrity News & Photos

Calling all HuffPost superfans!
Sign up for membership to become a founding member and help shape HuffPost's next chapter