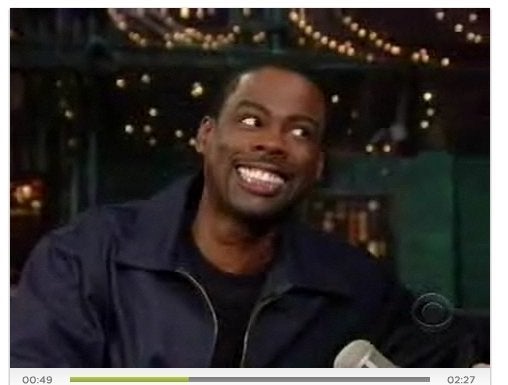 If you happened to catch The View this afternoon, you likely marveled at Bill Clinton's ability to call the 2008 election for Barack Obama without actually suggesting that Obama, as a candidate, had any particular quality that would enable the win, which would instead come about through a confluence of happy electoral accidents. The former president, let us say, is nothing if not consistent in his sense of party loyalty, where party=the party in his pants.
Apparently, Bill Clinton managed to be even more coy about his support for the Democratic nominee on tonight's iteration of The Late Show With David Letterman, because something inspired his fellow guest, comedian Chris Rock, to remark, "Boy, is it me or he didn't want to say the name Barack Obama?" From there, Rock went into a lengthy harangue about Hillary Clinton ("I love Hillary, but she lost...The Patriots got a lot of points, too, but they lost"), before finally referring to Sarah Palin's Alaska as "Road Warrior with snow."
Looks like someone's not going to be playing any Clinton Global Initiative benefits anytime soon!
Popular in the Community