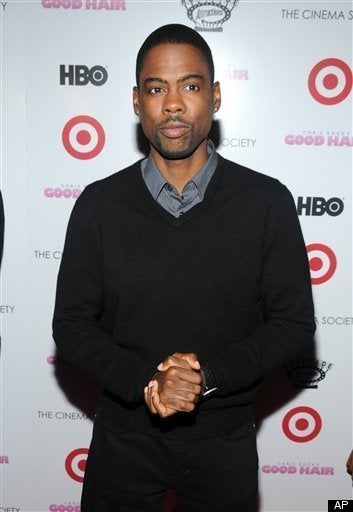 Hair. No matter what ours is, we wish is was straighter, darker, lighter, thicker, thinner, more curly. Whatever it isn't, is what we want it to be. It's a life-long battle, struggle, love-and-hate relationship.
And yet, it's everything.
That is why comedian Chris Rocks' documentary Good Hair -- about black women's issues with their hair -- is sure to spark discussion and debate, no matter what color or race the viewer may be.
Rock takes us on a fascinating journey through hair weaves, relaxers and the amount of money black women spend on hair. Eye-opening facts emerge, including that there are practically no African-American owned hair product companies: they're mostly Asian. We're also treated to a scientific experiment showing that hair relaxers have enough chemicals to completely dissolve a Coke can.
When Rock learns that much of the hair used for creating extensions for black women comes from India, he travels there and discovers it is actually one of India's largest exports. He visits a Hindu temple where more than 10 million people -- most of them poor -- sacrifice their hair to God in a religious ceremony. Ironically, once cut, religion goes out the window and a multi-million dollar industry rears it's head: the sacrificed hair is processed and sold to hair dealers around the world who, in turn, sell it to local dealers who, in turn, sell it to salons and hair vendors.
The documentary is interspersed with interviews with such celebrities as Nia Long, Ice-T, Raven Simone, Dr. Maya Angelou, Salt 'n Pepa, Eve, Tracy Thomas, and Reverend Al Sharpton. All of them offer up personal stories and observations about black women and hair. ("Relaxed" hair makes white people feel relaxed, they joke.)
Rock also visits high schools, salons, barbershops and hair dealers in places like New York, Atlanta, Birmingham and Dallas to interview local black teens, women, children and men about black women's hair.
Bottom line -- hair is big business and women are willing to spend hundreds and thousands on it to look good, even if in this flailing economy.
The film's weakest part is a through-line featuring a hair battle at the Bronner Bros. Hair Show. Watching stylists cut and shape hair on a stage with loud music and flashy costumes may be a spectacle, but ultimately uninteresting and not insightful compared to the rest of the movie.
Additionally, Rock's strength is not that of an interviewer and his voice-overs can get a little annoying. He's best taking the viewer into that world and then standing back to let us observe. Still, his name is clearly the drawing power to get viewers to board this fascinating ride because without him, the journey may not have even started.
And with this journey, the conversations about hair begin. At a recent press day, many journalists -- black, white, men and women had plenty to discuss with Rock.
Several journalists in the group wanted to know why Rock didn't explore the flip side of relaxers and showcase more black women who choose the keep their hair natural.
"That would be like doing a story on 'Hey, there's no toxins in the water,'" said Rock. "Or 'Let's do a story on people who didn't get murdered yesterday.'"
When one black, male journalist wanted to know why Rock didn't travel to Africa and show the origins of black women and their "natural" hair," Rock shot back: "That's Soledad O'Brien's job."
Good Hair is not hard-hitting like a 20/20 or 60 Minutes-type of piece. With Rock's name on it, you're bound to have comedy. Yet the film is at its best when it touches on those more serious issues which are then hilariously deflected by Rock.
"I want (viewers) to remember that they laughed," said Rock. "I'm a comedian. I make comedies. If they learn something (from this film), that's great, but I'm here to make people laugh."
Still, after Rock left the interview room, the young black man remained frustrated at the film's message he felt Rock was putting out -- "that black women don't have good hair." He and a black female reporter with natural hair in braids discussed how Rock should have done a fictional comedy film about this issue instead, or a stand-up comedy concert film dealing with hair -- just not a documentary.
Rock's co-star came to his defense.
"This movie is not about the 'natural' part about hair," said Raven Symone (College Road Trip, Cheetah Girls). "It's the fact that we put in fake hair to make it look natural."
Symone also felt that Rock didn't "have to put everything on the table" and whatever viewers feel was not addressed "should be talked about at home."
And talking about this issue is no doubt what Rock intended.

Calling all HuffPost superfans!
Sign up for membership to become a founding member and help shape HuffPost's next chapter