Despite living with amyotrophic lateral sclerosis (ALS), a disease that is slowing down his body, Chris Rosati remains tireless in his efforts to make the world a better place.
A few months ago, Rosati gave two girls he saw eating at Elmo's diner in Durham, North Carolina, $50 each and instructed them to use the money to do something kind. Cate Cameron, 13, and her sister Anna, 10, were surprised when they received the unexpected gift, they told CBS.
The sisters' father had volunteered in the Peace Corps in Sierra Leone, and the girls decided to send the money to a village there so residents could hold a feast to celebrate being Ebola-free. Rosati told CBS he had forgotten about his initial interaction with the Camerons until they sent him a photo of people in the Sierra Leone village holding up signs thanking him.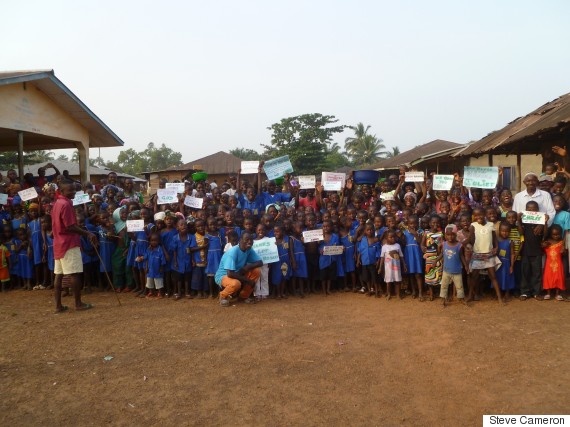 Rosati is working to maintain his optimistic perspective and spread kindness using the butterfly effect -- a theory that a small action in one place can lead to a larger reaction in another.
"[Applied to] an act of kindness, how far could it go?" Rosati wondered about the theory, as he told CBS Evening News.
Here a small act of kindness spread all the way to West Africa.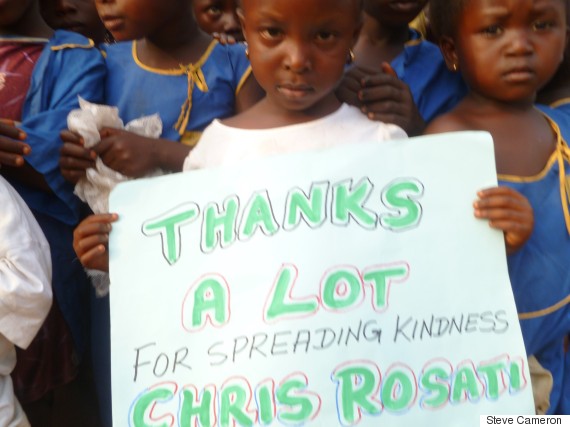 This is just the most recent event in a series of altruistic actions Rosati has displayed since being diagnosed with ALS. In January 2014, he made headlines with his plans to steal a Krispy Kreme doughnut truck and give out free donuts in his hometown of Durham. His argument was that life was too short not to follow your dreams. His wild plan eventually caught the attention of Krispy Kreme and the company sent a Crusier to help Rosati hand out free treats for a day.
Rosati also started the nonprofit Inspire Media and created Big Ideas for the Greater Good (BIGG). BIGG challenges kids to come up with creative ideas that can make a positive impact on the world around them. This past February, Rosati surprised students at Culbreth Middle School in Chapel Hill with a BIGG Challenge -- he presented them with a check for $1,000, WRAL News reported. In return, the students presented Rosati with 1,000 encouraging messages.
CORRECTION: A previous version of this article stated that the village in Sierra Leone had recently become Ebola-free; in fact it has remained Ebola-free through successful prevention efforts.
Calling all HuffPost superfans!
Sign up for membership to become a founding member and help shape HuffPost's next chapter
BEFORE YOU GO
PHOTO GALLERY
8 Touching 'Pay It Forward' Acts