What's happened to the jam bands? Once the very foundation of American and British rock 'n roll, it's now become the exception, not the rule, to go to a show and find musicians so competent on their instruments that they actually friggin' play them. Sure, we can make a list of artists still touting some down-home rock: Alabama Shakes, Shovels & Rope, Courtney Barnett. But in 2016 the list ends quickly, where as it once was endless.
Many indie music fans longing for a solid guitar solo or a healthy dose of killer blues harmonica are now feeling the pull of modern country music, making the cross-over with help from fresh-feeling acts like Sturgill Simpson and Chris Stapleton. (Stapleton's face-melting set with Justin Timberlake at the 2015 CMA awards didn't hurt anything, either.) These old-soul musicians bring an attitude to their tracks that's harder to capture with computers and Auto-Tune. It's an attitude that's ushering in a new rock moment, one where listeners are brought back to a recorded sound that fully hems in the otherworldly presence of live musicianship--that thing listeners are wanting and needing, but is now so hard to come by. So where can we get a little bit more of it? Enter The Magic Lightnin' Boys.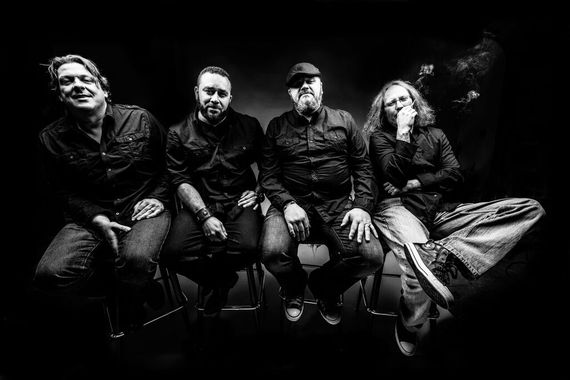 Hailing from Cincinnati, Ohio, this bearded swamp-rock quartet is fronted by Casey Gomez, a guy blessed with a voice that can wail, at times evoking Darius Rucker of Hootie & the Blowfish (Who has recently transitioned to country music himself. Coincidence?). While tracks off their first album, the self-titled LP of 2015, showed overwhelming promise, their upcoming release, Stealin' Thunder, out May 6th, is absolutely iTunes and radio-ready.
"Bones," the album's second track, featured at the top of this article, echoes Stapleton's more jammin' tunes, modified by layers of sound akin to rock-driven acts like Jack White or The Black Keys. The LP then rolls into "Before the Storm," and "April Rain," a feel-good rock song so wonderful you'll likely drop what you're doing, hop in your truck, and drive into the sun toward your dreams. A handful of the album's tunes, like "The Ride," feature ballad-esque starts and segues that, for a few bars, can almost be mistaken for a new Pearl Jam release. Thunder's penultimate track, "Rubber Side Down," featured below, hits every note fans of classic rock groups like Humble Pie and The Allman Brothers are so missing.
As to what the future holds for these talented dudes, here's to hoping it's exposure and accolades similar to what Stapleton has experienced in the past year. There's no doubt they'll find success on their own, but they could also make a musical mark by teaming up with artists like Shakey Graves and other storytelling blues-rockers in need of badass bands that can really jam. While it remains to be seen where distant winds carry the Lightnin' Boys, these upcoming summer tour dates ensure you can catch them as they take off, then soar.
Magic Lightnin' Boys Upcoming Shows:

May 6th, CD Release party at The Southgate House Revival, Newort, KY
July 16th, Navy Pier, Chicago, IL
July 28th, RiversEdge, Hamilton, OH
August 27th, Ohmstead Festival, Hannon's Camp America, College Corner, OH

Calling all HuffPost superfans!
Sign up for membership to become a founding member and help shape HuffPost's next chapter