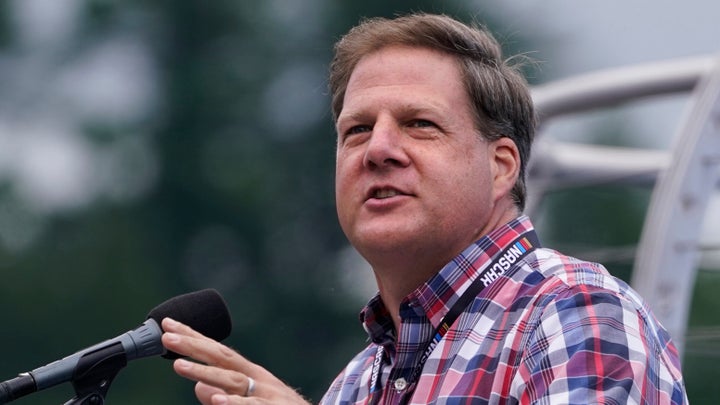 New Hampshire Gov. Chris Sununu said Tuesday that he won't run for Senate in 2022, depriving Republicans of a top recruit in a state that's viewed as a prime pickup opportunity.
Sununu's announcement that he's instead seeking a fourth term as governor came as a surprise following heavy courting from Republicans. In revealing his decision, Sununu criticized the Senate as ineffective and said he could accomplish more from his home state.
"My responsibility is not to the gridlock and politics of Washington — it's to the citizens of New Hampshire," he said at a press conference. "I'd rather push myself 120 miles an hour delivering wins for New Hampshire than to slow down and end up on Capitol Hill debating partisan politics without results."
Along with half a dozen other states, Republicans see New Hampshire as a key battleground for control of the 50-50 Senate next year and Sununu, a popular governor who far outperformed former President Donald Trump on the ballot in 2020, was supposed to help them lock it up. Early hypothetical matchups had shown Sununu with an edge over incumbent Democratic Sen. Maggie Hassan, Sununu's predecessor as governor who won by about 1,000 votes in 2020.
Besides New Hampshire, the fight for the upper chamber will be waged in Arizona, Georgia, Nevada, North Carolina, Pennsylvania and Wisconsin. Among those states, President Joe Biden's margin of victory was largest in New Hampshire, but Republicans still view Hassan, a first-term senator, as one of the most vulnerable.
The announcement was a major blow to Republicans who had pushed Sununu to run, especially after the party's win in Virginia's gubernatorial race and razor-thin margin in New Jersey's gubernatorial race. Senate Minority Leader Mitch McConnell (Ky.) and Sen. Rick Scott (Fla.), the National Republican Senatorial Committee chairman, both said they hoped Sununu would end up in the race.
Sununu told reporters after the event in Concord that he hadn't notified McConnell of his decision prior to his announcement.
"Unbelievable," Josh Holmes, a former chief of staff to McConnell, tweeted shortly after Sununu's announcement.
Popular in the Community