 In the face of such a high-stakes tradition, it might be tempting to try to adopt sang froid. But Thile isn't shy about grinning through the confetti. Sitting next to Junot Diaz and across from Charlie Rose this week, Thile beamed and ran overtime with every one of his exuberantly gestured thoughts, while Diaz, the 43-year-old writer of the moment who also made this year's cut, spoke in flawless metaphors and kept still. More than equals, they resembled the Karate Kid and Mr. Miyagi.
Thile might extend the student-sensei analogy to his relationship with all 22 of his new cohorts. When the composer spoke with The Huffington Post this Tuesday, less than 24 hours after the normally top secret list leaked, he talked of a "dauntingly lofty" new personal bar, swearing to us multiple times up and down that he's going to "try so hard to live up" to the standards of a group that includes a neurosurgeon and a telescope designer in its varied ranks. Did you hear that, doubters? Read on for the rest of what Thile said, including what it physically felt like to get the life-changing news, why he kept dodging the call, and his plans for all that cash.
HP: How does it feel to be a genius?
CT: I'm feeling pretty spectacular.
HP: How did you find out the news?
CT: The call started while my mother was driving me from my folks' place in Vernon, Kentucky to Nashville, where Punch Brothers [Thile's new band] had a gig. It was a strange number. I felt like it was a 'make sure to vote' robot. In my mind, I was like, 'Don't worry. I'm going to vote. Everything's cool!' Eventually Daniel Socolow -- the director of the Fellowship -- he left a message just saying his name, which I didn't recognize from anything, and saying he had something of interest to discuss with me.
I'm a musician, so a lot of times when people leave messages like that, they've gotten my number through a friend and want me to play on their record or something. So I wasn't even going to call back, but then he called me again -- at this point, my mom had already dropped me off in Nashville -- and he left a message saying, 'Don't tell anyone about this call.' Anyone who's seen any television knows you get that call right before getting shot. So the first thing I did was show it to someone. I played it for my tour manager. He googled the number and said, 'It appears to be from the MacArthur Foundation.'
Right then, I felt like an eighth of a person. I was in a state. A total state. I imagine it could be called hyperventilating. I thought, 'Wait, this can't be about me. They want me to confirm or recommend a buddy, or maybe the Foundation does other stuff that I'm not thinking about, NPR or PBS stuff -- This program has been made possible by the John D. and Catherine T. MacArthur Foundation, you know.
I called back, and the secretary said, 'He'll call you within five to 15 minutes.' And I'm freaking out. The boys actually took [and Tweeted] a picture of me laying down in the dressing room.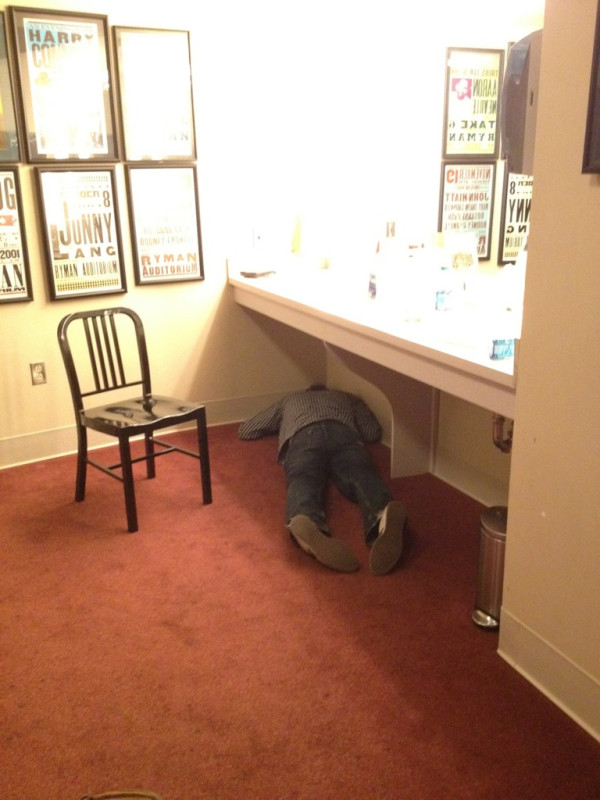 Courtesy Chris Thile
He called me back and slowly unveiled that I'd been given a fellowship. At that point there's just this feeling of levitating. I literally felt like I was floating. Then it would just be this alternating between levitating and an intense heaviness that was kind of all wrapped up in, 'I don't deserve this but I want to deserve this. I want to do good enough work to not stand out on this list. I just want to blend in and not be the dud on that list of people' -- a list I only just saw yesterday, you know, when the AP leaked the thing. I was just looking down that list and, god, I'm still just flabbergasted. The company is dauntingly lofty. I swear to god, I'm going to try so hard to live up to them.
HP: When did all this happen?
HP: So you weren't expecting the news at all? You didn't have the date of the MacArthur announcement circled in red on your calendar?
CT: You don't apply. It literally comes out of the clear blue sky. You get nominated, you're not made aware that you've been nominated. No one tells you. It's completely bizarre, a total hyperventilating situation. I play mandolin. I grew up going to bluegrass festivals -- and granted I've been an ambitious little fucker since I was five -- but this is bizarre. It's bizarre, and it's wonderful and it's inspiring and it's terrifying.
CT: I'm afraid I'm not able to articulate it better.
HP: Do you know who nominated you?
CT: They don't ever want you to know. Everyone who nominates and confirms is sworn to secrecy. I think occasionally people kind of can't hold on to the secret, but my buddy Edgar [Meyer], he won it several years back, and he doesn't know who nominated him. In an age where nothing is secret anymore, the MacArthur Foundation is really bringing it on the magical front.
HP: Now that you are $500,000 heavier, how to you plan to lose the weight?
CT: A very small allocation will go to some incredibly nice liquor to enjoy with dearest friends and family and collaborators. And then I think I may buy myself a little mandolin present. The one I have my eye on is a 1924 Gibson F5. It has a curly maple back and sides and the top of it is Adirondack Spruce. It's a lot of mandolin.
CT: It's just an absolute hoss, as we say in the bluegrass world. The box just explodes with sound. It matches you stroke for stroke. What caught my eye is it's two serial numbers away from mine. It's the same batch probably, on the workbench. And a buddy of mine owns the mandolin in between the two.
HP: Have you been able to play it yet?
CT: It's with me right now. I'm looking at it in its case. I've basically bought it with an approval period. I have three days to decide.
HP: How much does a mandolin like that go for?
CT: This one is in the 180 [thousand dollar] zone. My other one is what I spent most of the money I made playing in Nickel Creek on. It's 200 [thousand dollars].
HP: That's steep! How does anyone buy one of those without winning a genius grant?
CT: The vast majority of these mandolins don't get played. Almost no players have them. It's all collectors. It's a shame, because they literally go to sleep. They don't get devalued though, and that's actually more sad. There's no financial incentive for the people who collect them to get them in the hands of players.
HP: But they degrade over time?
CT: Without sound vibrating through the wood, the wood tightens up. Mine, the one that I currently own, hadn't been played in 80 years. It sat under a bed. It's taken me years to wake it up, whereas if it had been played that whole time it'd be awake and it'd just be getting better. Ones that spend their lives in the hands of great players sound incredible.
In classical music, there are programs that put these instruments in the hands of players. I would love to try and head up a program like that in bluegrass. There are wonderful young mandolin players who don't have access to great instruments, and there are tons of great instruments just sitting in boxes. It literally drives me to distraction.
HP: You're in a position to do something now. How are your bandmates taking the news of your newfound status?
CT: They are just being so sweet and supportive and making sure to give me enough shit so I don't float away.
CLICK through the slideshow below for all 23 of this year's MacArthur geniuses:
PHOTO GALLERY
2012 MacArthur Fellows
REAL LIFE. REAL NEWS. REAL VOICES.
Help us tell more of the stories that matter from voices that too often remain unheard.
BEFORE YOU GO