WASHINGTON -- It was a good thing Chris Van Hollen showed up. At a press conference Wednesday, Van Hollen, a House Democrat running for U.S. Senate in Maryland, stood to the side as Sen. Richard Blumenthal (D-Conn.) promoted a bill that would boost Social Security checks for many low-income seniors and strengthen the program.
Blumenthal thanked his Senate colleagues for being there, then gestured toward Van Hollen, saying he hoped the congressman would soon join him in the upper chamber.
It was an awkward moment for an endorsement. Standing behind Blumenthal was Rep. Donna Edwards, another Maryland Democrat. She's running against Van Hollen for the Senate seat.
But it wasn't an endorsement, said Josh Zembick, a spokesman for Blumenthal. The senator "didn't see Donna Edwards there, she was standing behind him," he said. "He only saw Congressman Van Hollen."
Blumenthal "was talking about the generic Democratic candidate and making that statement," Zembick said. "He'd like to see a Democrat in the Senate from Maryland."
An Edwards campaign spokesman declined to comment on the episode, and it's unlikely to move the needle in Maryland (Quick, Maryland residents, no Googling: Who's Richard Blumenthal?). But the issue at the center of Wednesday's event is proving to be a potent one in the Senate race.
In a campaign email to supporters after the press conference, Edwards said she, unlike Van Hollen, deserves the backing of people who care deeply about Social Security.
"This morning, I joined with my colleagues in reintroducing an important bill that would protect and expand Social Security," Edwards wrote. "There were a number of new faces, but I have always been there.
"As an original co-sponsor of the Social Security 2100 Act to expand Social Security benefits, I am thrilled that more and more elected officials are recognizing that too many of America's seniors live on the edge," Edwards' email continued. "Too many Democrats -- to say nothing of Republicans -- remain all too willing to hurt grandparents, retired veterans, and the disabled in the name of 'compromise.'"
Edwards' emphasis that she has "always" supported Social Security and her scare quotes around "compromise" are a dig at Van Hollen, who has been targeted by progressive activists backing Edwards. They've been bashing Van Hollen for his previous support of a deficit-reduction framework that included cuts to Social Security. In 2012, he endorsed the concept of the Simpson-Bowles plan in failed legislation that aimed to avoid automatic federal spending cuts. That plan would have increased the taxable maximum on income, calculated cost-of-living raises differently to slow spending, and raised the retirement age in 2050.
"That mix of cuts, but also revenue, is the right way to go," Van Hollen said at the time. Progressive activists have been hammering him for supporting Simpson-Bowles, highlighting the peril for Democrats who express openness to reducing benefits people feel they have earned over their lifetime.
Van Hollen has maintained that his comments were taken out of context and said he never supported cuts to Social Security. When NBC's Chris Jansing asked him in November 2012 if he was a firm no on cuts to Social Security, he said, "Well, we need a long-term solution to Social Security," noting that it wasn't a pressing issue and even Simpson-Bowles dealt with it separately from the rest of the budget. But as for the cuts to the program, he added, "I don't agree with their specifics on Social Security."
When a bill similar to Simpson-Bowles came up for a vote in the House, Van Hollen voted against it. In July 2011, when the White House proposed trimming benefits in its annual budget, Van Hollen pushed back.
On Wednesday, Van Hollen publicly backed a bill that is a significant step forward in the debate over Social Security. The Democratic' legislation, introduced this week by Rep. John Larson (D-Conn.), would expand benefits by giving retirees and disabled workers larger annual cost-of-living increases, and would improve the program's finances through higher taxes. Social Security's retirement insurance program has a $2.6 trillion trust fund that will be depleted by 2035, with projected incoming payroll taxes at that point only enough to cover roughly 80 percent of scheduled benefits.
The Larson bill would give a sizable boost in payments to the poorest quarter of Social Security recipients, and would make it fully funded for 75 years. Currently, only the first $118,000 of a worker's wages are subject to Social Security payroll taxes. The Democrats' legislation would shore up the trust fund largely by imposing the tax on incomes above $400,000.
"You don't save Social Security by cutting Social Security," said Van Hollen.
He won backing from Max Richtman, president and CEO of the National Committee to Preserve Social Security and Medicare, who said in a statement Wednesday, "Once again, the House Republican budget is trying to undermine seniors' retirement security. Once again, seniors, workers with disabilities –- including veterans –- and survivors can count on Chris Van Hollen to protect their earned Social Security benefits."
The groups targeting Van Hollen -- Social Security Works, MoveOn.org, Democracy for America, Credo Action and the Progressive Change Campaign Committee -- pressed him for more. "Van Hollen's support for the expansion of Social Security will mean little if, when push comes to shove, he supports a deal to cut benefits, as he has said he was open to considering in the past," Becky Bond, political director at Credo Action, said in a statement to HuffPost. "Van Hollen will have ample opportunity on the campaign trail to speak directly to the voters of Maryland and we hope he takes this opportunity to make a clear and public promise to vote no on any legislative proposal that includes cuts to Social Security, Medicare or Medicaid benefits."
Nick Berning of MoveOn.org sounded a similar note. "It is well and good to say that one opposes Social Security benefit cuts in the abstract -- and even that one supports expanding Social Security -- but that position means little if one is willing to support a larger budget package that contains Social Security benefit cuts," Berning said.
In a Democratic primary, being characterized as in favor of cuts to Social Security can be damaging. Van Hollen was asked about his position by a caller during a recent radio interview with WAMU's Kojo Nnamdi and he pushed back hard.
"Anyone that has seen my record knows that I have been fighting not just to protect, but to strengthen Social Security and Medicare my entire career," Van Hollen said. "I led the fight against the changes to Medicare and Social Security proposed in the Ryan Republican budget. I put forward our own budget alternative for Democrats to protect and strengthen Social Security. That's why I have a 100 percent rating from the Alliance for Retired Americans. I've worked closely with the Committee to Preserve and Strengthen Social Security and Medicare. So I'm really glad that this caller asked this question. I'm against cutting Social Security."
This article has been updated to include the comment of Max Richtman.
Before You Go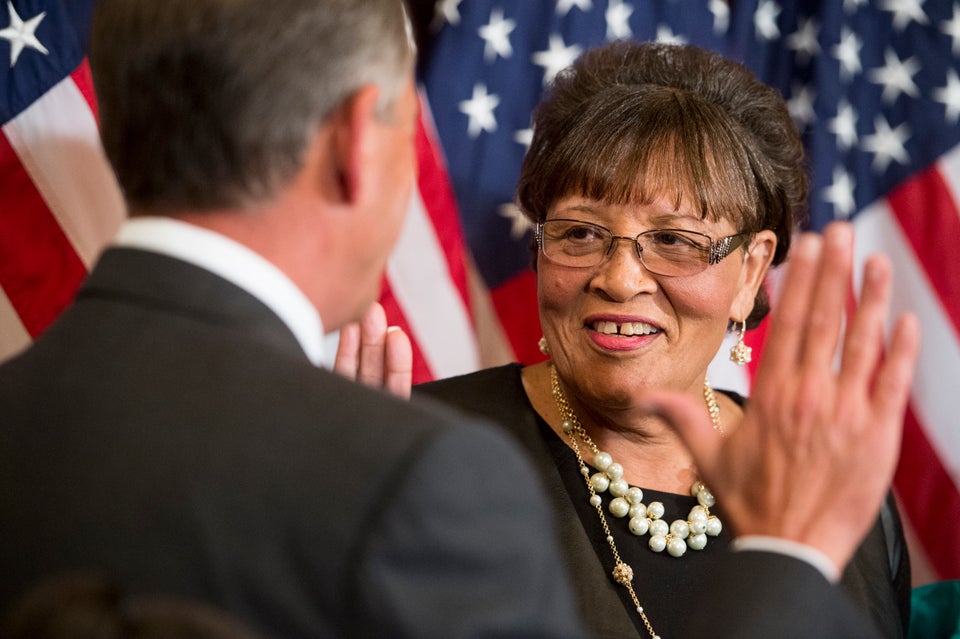 New Congress Members
Popular in the Community