"The roll matters as much as the rock, and the roll is where the soul is." ~ Chris Vos
Have you seen The Record Company yet? The first response that I usually hear is, what record company? But take note: The Record Company is in fact the name of a band--a three-piece out of Los Angeles with an even blend of rock and blues who have been criss-crossing the states for the last five years opening for a variety of acts including Jonny Lang, Brian Setzer, Buddy Guy, and Trombone Shorty. I met up with their guitarist and vocalist Chris Vos at The Sinclair in Cambridge, Massachusetts to discuss such topics as bonding with his band mates over vinyl records, playing rock & roll, and staying motivated as an artist.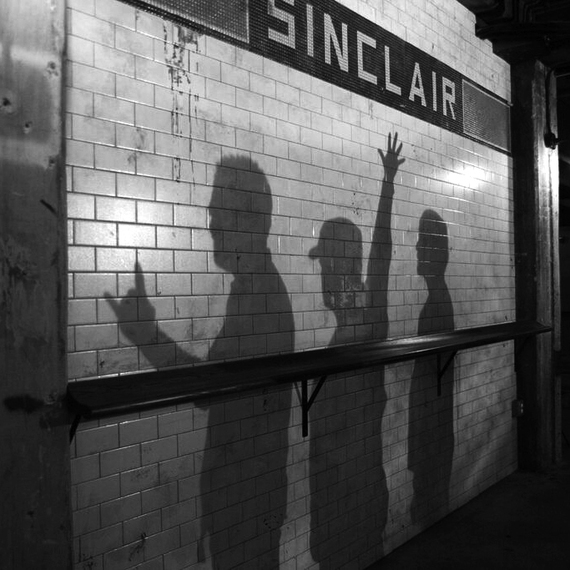 The Record Company. Photograph courtesy Leslii Stevens | Studio 23
Jason Landry: As a young man growing up in Wisconsin, what guitar players influenced you to want to pick up the instrument and play?

Chris Vos: The way I grew up it was a little bit more remote. We didn't have the Internet or cable television, so it was either what you heard on the radio, or what you heard from your dad or your cousins or friends. I'd say that Jimi Hendrix was one of those guys that made me want to pick up a guitar. I also loved the sounds of all of the Motown stuff my mom had and listening to The Beatles and listening to John Lennon and George Harrison play. And then it was the Rolling Stones--my dad was a big Stones guy. And then Creedence (Clearwater Revival) and John Fogerty. Later on, slide guitar came to me because of Johnny Winter. And on a Muddy Waters record was the first time that I heard a Dobro--that changed my life. The reason that I started playing it on my lap was because I didn't know any better, and found out later that you could do that, so it was okay.
JL: Do you remember the first concert you saw that made you think: I want to do that!
CV: The Oak Ridge Boys when I was in kindergarten. My parents took me to the Elkhorn County Fair and the Oak Ridge Boys were playing and it was the first time that I ever saw people on a stage. I was about five. I had been a farm kid my whole life, and suddenly saw people playing music on stage and I was like, whoa! It blew my mind. I think my parents took me because I liked their song, Elvira.
JL: Eventually you left middle America and headed for Los Angeles. How hard was that transition?
CV: It was actually challenging for a different reason than I had anticipated. I thought it was going to be hard to find people to play with, and it really wasn't. The difficult part for me was the small town boy away from home--being away from family and friends. I didn't find the guys in the group for a couple of years, but I was playing music that I enjoyed to play right away.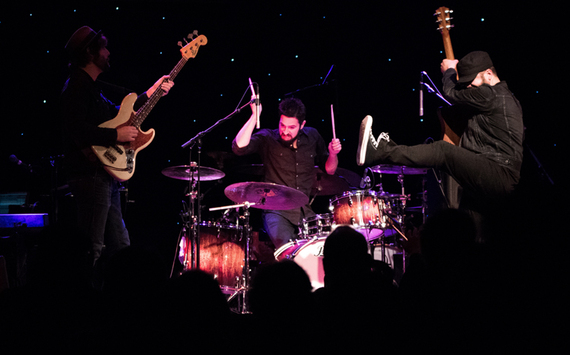 Photograph courtesy Leslii Stevens | Studio 23
JL: I heard that you and the band first bonded over listening to albums. Even though the music industry has moved toward a more digital way of distributing music, vinyl records have continued their resurgence in the last ten years. Besides that John Lee Hooker and Canned Heat album that you have mentioned in previous interviews, what other classic albums get the most spins on your turntable?
CV: Anything that has Jimmy Reed on it. If I have friends come over to hang out, the only way that Jimmy Reed isn't going on at some point is if somebody tells me, please don't play that. I would put him on every single minute of the day. It's funny what sounds great on vinyl on a Friday night coming through a nice speaker system in a proper living room--we listen to all of the records in the same living room that we recorded our record in. Another record we'll play is Band of Gypsies--that's been something that has been a staple since the early days. The John Lee Hooker record called On Campus, Derek and the Dominoes, any Stones, Johnny Cash, Muddy Waters: Live at Newport Folk Festival. Alex bought that Muddy Waters record and it was one of the first times that Alex and I hung out after we formed the band. I remember popping that on and we listened to the whole side A, and when the song Tiger in Your Tank came on we just looked at each other and I was like, can you friggin' believe this album?
JL: Some people align themselves with certain genres of music. Some might say they are strictly blues musicians, or they're known for rock & roll. Since The Record Company is a fine mix of both, do you lump blues and rock into one category, or do they appear separate in your mind?
CV: I don't lump blues and rock into one category, I think that happened back when Chuck Berry started playing and they called it rock n' roll. The roll matters as much as the rock, and the roll is where the soul is. I call us a rock n' roll band. And I mean it that way. The roll is as important as the rock.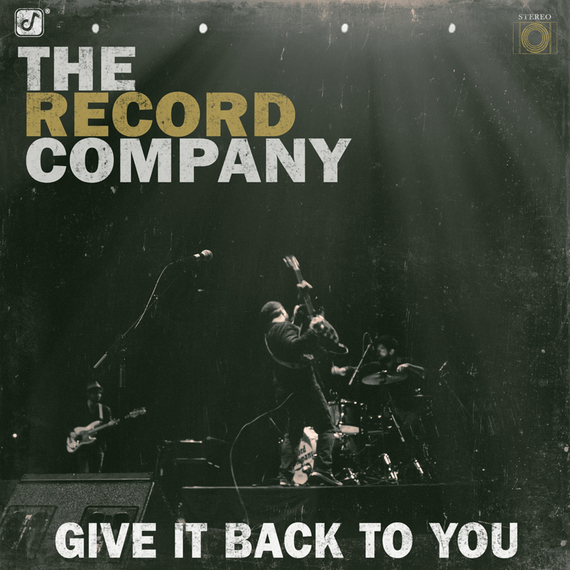 JL: What should your audience expect from the band's new release titled Give It Back To You?
CV: I think it's a record that you can put on and it plays well from top to bottom. Since our band bonded over vinyl records, we created it with this Side A / Side B idea, taking you through the record just like some of the records we love. I think you could put this record on any time of the day and I'm hoping that it will make you feel good and get you movin'.
JL: You sing about a girl named Rita Mae Young on this album. Who's that?
CV: It's a song that we all wrote together lyrically. I'm not one to go into what a song means, but we were all thinking about what a particular experience with someone that you care about would be. Rita Mae Young was the title we came to because it sounded like the right name for the situation that we were describing. Rita Mae Young sounds like somebody you might miss if she was gone.
JL: You have a song in your set list that you once told me would never appear on an album because it wasn't possible to capture the same feeling you get when you hear it live. What's the title of that song, and couldn't you just include it as a bonus live track at the end of the album?
CV: There really isn't a title for that song. When we talk about it we call it "The Burner". That's just the way that we refer to it when it's in the set. It's just a jam that we started doing early on when we needed more time--it's a slide tune with this revival feel--it's a tune that we let stay loose so that each evenings performance of it be a little unique to that place. It's nice to have something stay open-ended to let the spirit move you on any given evening.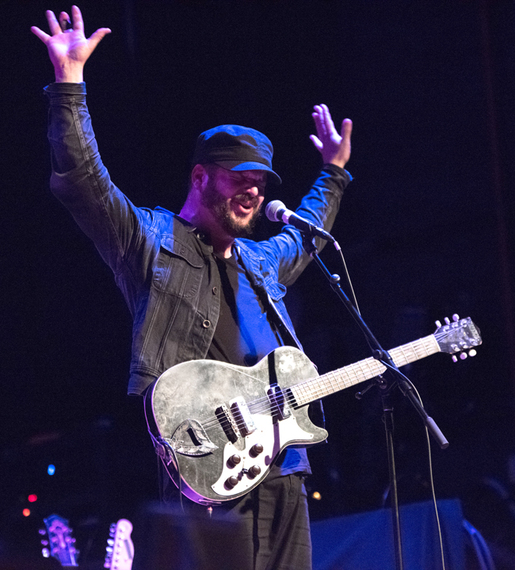 Photograph courtesy Leslii Stevens | Studio 23
JL: Let's talk about your guitars. In your live sets you interchange between electric, acoustic, and slide. 1.) Do you have a favorite guitar? and 2.) Which guitar delivers a sound closest to what The Record Company is all about?
CV: The guitar that is on this entire record is this old Teiesco Del Rey that a friend of mine in Wisconsin dumpster dived for and fished it out of the trash and brought it to me one day. That's not what makes this guitar cool. What makes that guitar awesome in the studio is that it is completely microphonic--meaning that it operates like a microphone. I can literally talk toward any part of the guitar and I can hear my voice coming through the amplifier. It's not a guitar that you can play live because it immediately feeds back, which is awesome too because in the studio, its always on the verge of collapsing. You can really hear the pick hit the string. It sounded a little like Hound Dog Taylor who had a sound that was a lot more wild.
JL: The Record Company has had the opportunity to open for a number of noted musicians and bands over the last few years. Are there any specific things you learned from any of them that have helped you out as a musician?
CV: I've learned things from every one of them like fearlessly going into a situation and being yourself. Not going on stage with any idea of what you are, or what you are going to become, or what you might be, just leaving your brain at the side of the stage and going to the people with your heart open and your soul warm.
JL: What do you find is the biggest struggle for newer bands out on tour?
CV: Making ends meet, getting to places on time, and dealing with problems that crop up. I think every band has their own set of issues. We work really well as a team and luckily each one of us is good at different things. The toughest part of being on the road when you are first starting out, is that you don't have a lot of money, you're doing it all yourself, you don't know what kind of crowds you're going to be facing, and you have to have a lot of inner faith as a band. If you can focus on that inner strength, it really helps at the beginning.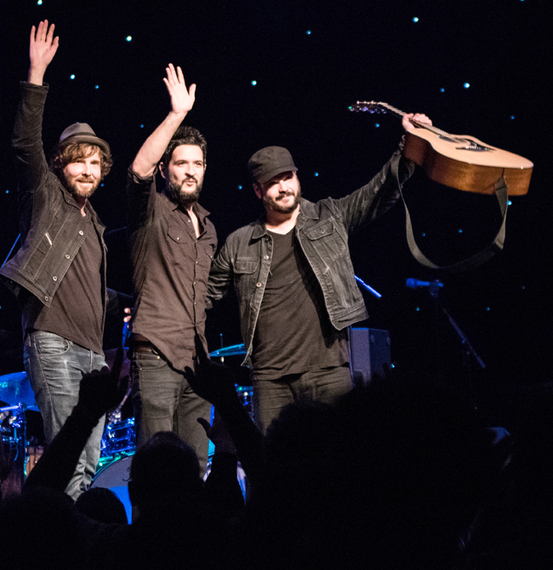 Photograph courtesy Leslii Stevens | Studio 23
JL: Do you think there is one motivating factor that keeps you going each and every day to play music?
CV: Music. . . . . . loving it, since the day I was born is the motivating factor. The pure joy and the tears that come to your eyes listening to it. The fact that every memory that I've ever had in my life that I care about is set to music--be it the first dance with my wife or my grandpa making me listen to Patsy Cline when I didn't know how awesome it was, or my mom buying me a Ray Charles record. It's an addiction. If I don't play it every day, I don't feel like I lived enough that day.
The Record Company will be releasing their first full-length album and CD on Concord Music Group February 12, 2016. For more information about them, and to see a list of their tour dates, visit their website: therecordcompany.net
REAL LIFE. REAL NEWS. REAL VOICES.
Help us tell more of the stories that matter from voices that too often remain unheard.