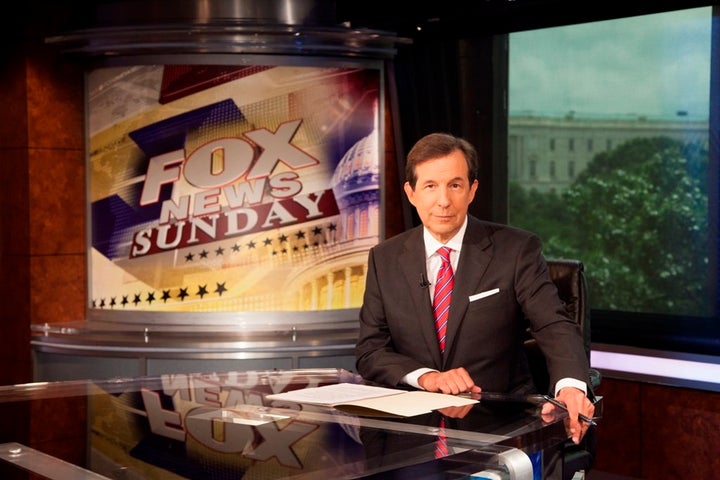 Chris Wallace isn't interested in talking points. 
"The one thing the Sunday shows still do that stands out is that we are the one place that you have long, in-depth, well-researched, probing interviews," Wallace, the host of "Fox News Sunday," said in an interview with The Huffington Post. 
As the show celebrated its 1,000th episode over the weekend, Wallace doubled down on his commitment to in-depth reporting, saying his program stands out from other Sunday political programs like NBC's "Meet The Press" and CBS's "Face The Nation" -- that have begun airing shorter interviews and more segments. To that point, Wallace has declined to allow Republican presidential candidate Donald Trump to phone in to the program. 
"Prior to this cycle, I'd never seen a presidential candidate doing a phone interview and we're not going to do it on 'Fox News Sunday'," Wallace said, adding that "a phoner debases the currency." 
Trump did, however, call in to three other Sunday programs this week -- NBC's "Meet the Press," ABC's "This Week" and CNN's "State of the Union." Networks typically only allow reporters and other guests to call in by phone during breaking news situations, but appear to have made multiple exceptions to accommodate Trump.
Wallace said in-depth programs like his, which can accommodate longer interviews, are important during election seasons to get politicians to answer tough questions.
"All of these candidates are so skilled with their talking points and their scripts, and you have to go at them to get them off the script, and think and reacting in real time," he said. "That means not only asking a question, but asking a follow-up and sometimes a follow-up to a follow-up."
Wallace did just this on Sunday when he grilled presidential candidate Carly Fiorina on claims she made about Planned Parenthood during CNN's GOP presidential debate. Fiorina described watching a grisly video in which an aborted fetus' heart continues to beat while Planned Parenthood staff discuss how to harvest its brain.
Fact-checkers, however, have pointed out that no such video exists -- though anti-abortion group The Center for Medical Progress has released a video in which a former Planned Parenthood employee describes such a scene. 
"As horrific as that scene is, it was only described on the video by someone who has claimed to see it," Wallace said to Fiorina in the segment. "There is no actual footage of the incident you just mentioned."
"No. I don't accept that at all," Fiorina responded. "I've seen the footage and I find it amazing, actually, that all these supposed fact-checkers in the mainstream media claim this doesn't exist."
Wallace, who co-moderated the first GOP debate, didn't shy away from comparing Fox News' performance with CNN's.
"I liked our debate better, among other things I thought it was better at 2 hours rather than 3 hours," he said. "I thought that CNN spent too much time trying to pick fights. Some of them were over legitimate issues, and some of them were about 'He said this about you, what do you say to him?' I thought some of those didn't go anywhere."
Watch Chris Wallace's "Fox News Sunday" interview with GOP presidential candidate Carly Fiorina below:
Calling all HuffPost superfans!
Sign up for membership to become a founding member and help shape HuffPost's next chapter