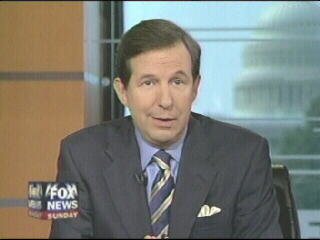 Fox News anchor Chris Wallace had an unexpectedly salty conversation with radio host Mike Gallagher on Friday, telling Gallagher that he knows how to "satisfy a woman" and suggesting that the host would hire an escort if he was "a man."
Wallace's first comment came after Gallagher said he hoped to have the "Fox News Sunday" host's wife as a guest when her book was released in the New Year. "This woman is a saint for putting up with you," he continued. "I gotta find out what the secret is."
"Maybe the secret is I know how to satisfy a woman. Has that ever occurred to you?" Wallace replied. He went on to say that "if I had my own pad and was a bachelor in New York, I wouldn't be lonely. It'd be party night."
A few minutes later, Wallace asked Gallagher why he was so "lonely" in New York, and told him to call one of the "advertisements for, like, gentlemen's clubs and escort services."
"I'm not going to a gentleman's club," Gallagher said, "Are you crazy?"
"Because you're not a man," Wallace said.