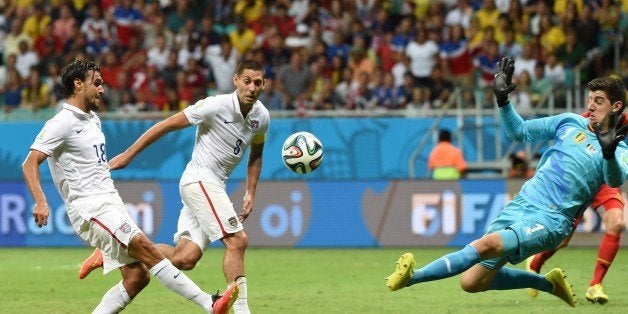 For a moment, the ball was all right there for Chris Wondolowski. Then it was gone, sailing high over the crossbar. Along with it went the United States' best chance at defeating Belgium.
With the U.S. and Belgium still scoreless into third and final minute of second-half stoppage time of their Round of 16 clash on Tuesday, the 31-year-old substitute striker was presented with a chance to steal a win against the run of play. The U.S. was pushing forward in a last-gasp foray into the Belgium penalty area when midfielder Jermaine Jones headed the ball into Wondolowski's path. The goal line was just steps away, but Belgium goalkeeper Thibaut Courtois was closing fast. The Major League Soccer veteran who made his World Cup debut in 2014 sent his right-footed shot over the crossbar.
At the time of the missed shot, ESPN announcers stated that a linesman had raised a flag indicating Wondolowski was offside, but replays showed he was in an onside position when Jones headed the ball toward him. The stats of the match at FIFA.com later showed that the U.S. was not whistled for offside during the 120-minute clash at Arena Fonte Nova in Salvador.
In extra time, Belgium finally broke through against U.S. goalkeeper Tim Howard for a pair of goals en route to a 2-1 win. After the heartbreaking defeat ended the U.S. run in Brazil, Wondolowski took to Twitter to thank fans for their support and let everyone know how disappointed he was about the late miss. HIs tweets suggest that he did not believe he had been judged to be offside and that any goal he scored on the play would have counted.