WASHINGTON ― In 2004, shortly after James Comey rushed to the hospital to stop Bush White House officials from trying to get a bedridden John Ashcroft to reauthorize a surveillance program Comey believed was illegal, another top Department of Justice official stopped him in the hallway.
The DOJ official had gotten wind that a group of his senior colleagues, including Comey and FBI Director Robert Mueller, were contemplating resigning. He told Comey that he would leave the department if they did.
"Look, I don't know what's going on, but before you guys all pull the rip cords, please give me a heads-up so I can jump with you," Christopher Wray, the assistant attorney general who ran the department's criminal division, told Comey, according to a 2007 report in The Washington Post.
Comey went on to become director of the FBI, but President Donald Trump fired him in May as the agency investigated possible collusion between Trump officials and Russia. On Wednesday, the president announced via Twitter that he would nominate Wray to succeed Comey.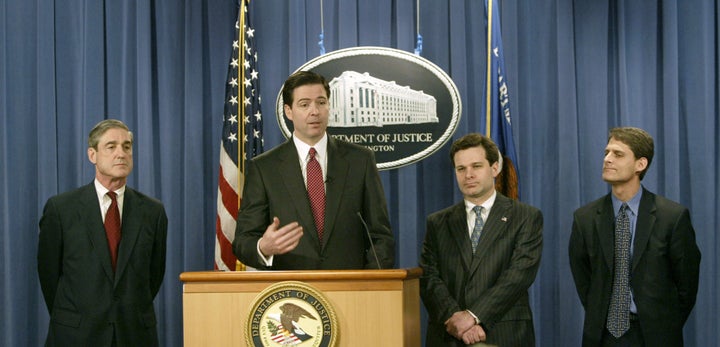 Trump doesn't like Comey. But former colleagues say Wray shares some of the characteristics of his predecessor.
"Chris, in so many ways, is cut from the same cloth as James Comey is,"  Bill Mateja, who worked with Wray in George W. Bush's Justice Department, told HuffPost. "They have terrific moral compasses, and they're very motivated to do the right thing and will do the right thing no matter what."
Wray is, however, "much more introverted" than Comey, Mateja said. He said Comey and Wray had a strong relationship.
They have terrific moral compasses, and they're very motivated to do the right thing and will do the right thing no matter what.

Bill Mateja, former colleague of Chris Wray
While Wray earned bipartisan praise after Trump's announcement, his work on Bush-era programs and some of his work in private practice is sure to raise questions during his confirmation hearings. Wray represented New Jersey Gov. Chris Christie (R) during the "Bridgegate" trial, in which two of the governor's top former aides were sent to prison for their role in closing lanes on the George Washington Bridge for political retaliation. The governor was not charged.
Another partner at Wray's firm, King and Spalding, is an adviser to the trust that holds Trump's business assets. The firm has done work on energy issues in Russia, and a 2016 biography of Wray on the firm's site noted he represented "an energy company president in a criminal investigation by Russian authorities."
Wray was also involved in a Republican effort under Bush to crack down on voter fraud, which didn't turn up much. (Trump has claimed there was widespread fraud in the 2016 election, but offered no evidence.) As part of a 2008 Inspector General investigation into allegations that Democrats and liberals were being unfairly blocked from the Attorney General's Honors Program and Summer Law Intern Program, Wray told investigators ideology was only considered in hiring to make the program more diverse.
He did not donate to either presidential candidate in 2016, but has donated to Republicans in the past, including Mitt Romney in 2012 and John McCain in 2008. 
In 2003, he provided briefings to Ashcroft on an investigation into who unmasked Valerie Plame, a CIA agent, amid concern the attorney general was too involved in an investigation involving political allies.
"Christopher Wray's firm's legal work for the Trump family, his history of partisan activity, as well as his history of defending Trump's transition director during a criminal scandal makes us question his ability to lead the FBI with the independence, even-handed judgment, and commitment to the rule of law that the agency deserves," Faiz Shakir, the national political director of the American Civil Liberties Union, said in a statement.
"Given that Wray touts his deep involvement in the Bush administration's response to the 9/11 attacks, which includes his connections to some of the most unlawful legal memos on Bush-era torture programs, the Senate should press Wray to come clean about his role in the programs," Shakir added. 
Wray was just 36 when he was nominated to lead the DOJ's criminal division in 2003, making him the youngest lawyer to lead the division in two decades at a time when there was significant emphasis on counterterrorism initiatives. He had joined the department six years earlier, as an assistant U.S. attorney in the Northern District of Atlanta before becoming an associate deputy attorney general in 2001.
Some people wondered whether Wray was too young for the job, but he earned praise from department colleagues, including Comey, who told the National Law Journal at the time that Wray was a "spectacular choice."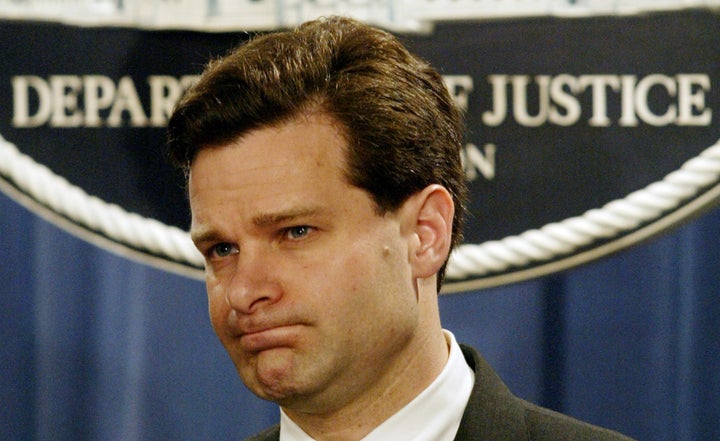 He also earned a reputation for not getting tied up in office politics and being a hard worker. Trump has publicly criticized Comey as a "showboat" and "grandstander."
"The hard cases would inevitably be assigned to him. The guy comes in to work. He doesn't gossip. He stays as long as it takes. He'd be there on the weekends when the air conditioner wasn't running," Daniel Griffin, who worked with Wray in the U.S. attorney's office, told the National Law Journal in 2003.
On his first day at the Department of Justice, Wray was tasked with figuring out how the FBI had misplaced boxes during the trial of Timothy McVeigh, who was sentenced to death for setting off a bomb at a federal building in Oklahoma City in 1995 that killed 168 people.
After graduating from Yale Law School in 1992, Wray went to clerk for J. Michael Luttig, a judge on the U.S. Court of Appeals for the 4th Circuit, where his modesty made an impression.
Wray began his career as a federal prosecutor working on violent crime cases, but eventually moved more toward fraud and public corruption, according to the National Law Journal. As head of the criminal division, he pursued high-profile corruption cases against lobbyist Jack Abramoff and former Reps. Randy Cunningham (R-Calif.) and William Jefferson (D-La.). He also oversaw the Enron Task Force, charged with investigating and prosecuting officials after the company's collapse.
Mateja, the former DOJ official who served with Wray in the deputy attorney general's office, said Wray was not traditionally partisan. 
"There's no denying that Chris is a Republican, but there's a difference between Republicans that serve in public offices who are deeply Republican, versus those who just happen to be Republican," he said. "Chris is one of those ones where he doesn't wear politics on his sleeve."
But Mateja said Wray was a conservative who grew up in a Justice Department run by Ashcroft. And, if confirmed, Wray could spend the next 10 years of his term shaping the bureau.
"His vision can't help but be formed by that experience," Mateja said. "He's going to approach things much more in that conservative, Republican tone than what we saw over the last eight years, that's for sure."
REAL LIFE. REAL NEWS. REAL VOICES.
Help us tell more of the stories that matter from voices that too often remain unheard.
BEFORE YOU GO
PHOTO GALLERY
2017 Scenes From Congress & Capitol Hill