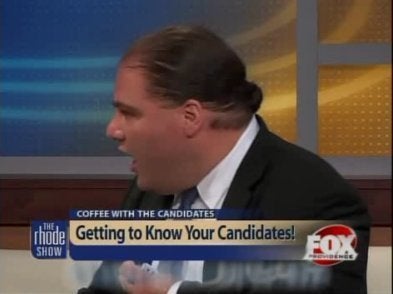 Democratic Providence mayoral candidate Chris Farley Young raised some eyebrows and smiles on TV this week when he traded conventional talk of politics for a soulful ditty about a "rich man who stands in his house." A few days later, he raised the bar of spontaneous affectionate display -- already set quite high by himself -- by proposing to his girlfriend during the closing remarks of a live televised debate.
During a Monday appearance on Fox Providence's "Coffee With The Candidates," host Elizabeth Hopkins seemed rather taken aback by the "perennial gadfly candidate's" choice to fill up his entire interview segment with a heart-felt song, but Young was undeniably well prepared (pitch failures aside), with a recording of a softly crooning guitar riff and some interesting lyrics:
To the rich man who stands in his house high upon the hill.

The chains that bind you the flames surround you, for the price you have received.
What good are those riches, and are they worth the cost?
Are you lost?
Too rich to see Jesus and the poor.
Are you lost?
Too far to see Jesus from where you are.
To the poor and lame imprisoned and enslaved
Be not afraid.
It is the son of God who stands with you.
And are you lost?
That's as far as Young could get before Hopkins was forced to cut him off, which is really too bad because the guitarist for Young's band just happened to be waiting out in the lobby for a totally impromptu performance.
For most people, making such a scene on live television would fill the weekly quota for awesomeness, but not for Chris Young.
During a mayoral debate on Tuesday night, Young again stole the scene when he proposed to his girlfriend and campaign manager mid-closing statement. She said yes, but really, who wouldn't?
We know that Young is not actually the ghost of Chris Farley, but still, we can't help but wonder if he might live in a van down by the Providence River. If he does, we're pretty sure he's more than content there.
Watch Chris Young sing on Fox Providence:
Watch Chris Young propose to his girlfriend during debate:
Calling all HuffPost superfans!
Sign up for membership to become a founding member and help shape HuffPost's next chapter