"The Patriarch of Perfection" is back! Chrisley Knows Best returns to USA Network on Tuesday, Oct. 14 for its second season premier with two back-to-back episodes. The reality series was picked up for a 12-episode second season order, which began production in Atlanta, Georgia back in June.
I got the scoop on what's to come in season two during a breakfast with the entertaining family and its producer in Atlanta.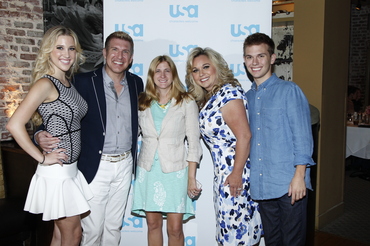 If you're not familiar with the buzzy series, it follows the lives of Atlanta-based Todd Chrisley, and his unique brood, including: his sweet wife Julie, and charming-yet-scheming children: Lindsie (24), Kyle (23), Chase (18), Savannah (16) and Grayson (7).
During the first season, audiences got to witness Todd's extreme parenting style when he placed a boot on his teenage son's car and his monitoring of all the outfits his family wears.
Todd explained his fatherly actions over an omelet, "it is all done out of love," he said. It must be working as I thought his kids were extremely nice and grounded despite their families' fortune and new found fame. He also shared the following parental wisdom:
"Do I do everything right? No. I made a lot of mistakes, but because of those mistakes is why I've had so many successes," said Todd Chrisley. "I want my children to learn, it's OK if you fall, because as long as the Lord gives me breath I'll be there to pick you up. You may not like when I pull you out of that ditch what I say, but I will pull you out of that ditch."
During the new season, viewers will join the Chrisley's for many milestones and family adventures, including their move into a brand new home, teenage daughter Savannah's first date without her watchful dad, Chase's much-anticipated 18th birthday, and a memorable Father's Day which does not exactly go Todd's way! Oh, and Todd said his wife has implemented a swear jar that he keeps filling up, haha.
Producer Stephanie Bloch Chambers shared the following additional teases for what's to come in Season 2 of Chrisley Knows Best:
"Look forward to them out of Atlanta, but still in their element. Seeing them a little bit of a fish out of water, but not too much."
For Todd, doing some things that perhaps he's never done before, but doing it for the love of his family.
Chase desperately wanting to be independent, but not really realizing what independence means.
After sharing a breakfast with them, I was delighted to see they were all very much the same off-screen as they are on. Todd was charming and captivating, grabbing the attention of everyone at the table with his funny stories and quick-witted one liners. His overprotective nature towards his kids came through as he discussed that although his son Chase just turned 18, the rules in his house haven't changed for the "adult." This caused eye-rolling from Chase and laughter from me. It was like I was watching the show live.
For fans who just can't get enough of the Chrisleys, or those who want to check out what the fuss is all about, USA Network is celebrating Labor Day weekend with the family during a season one marathon on Saturday, Aug. 30, from 7-11 p.m. ET.
Popular in the Community