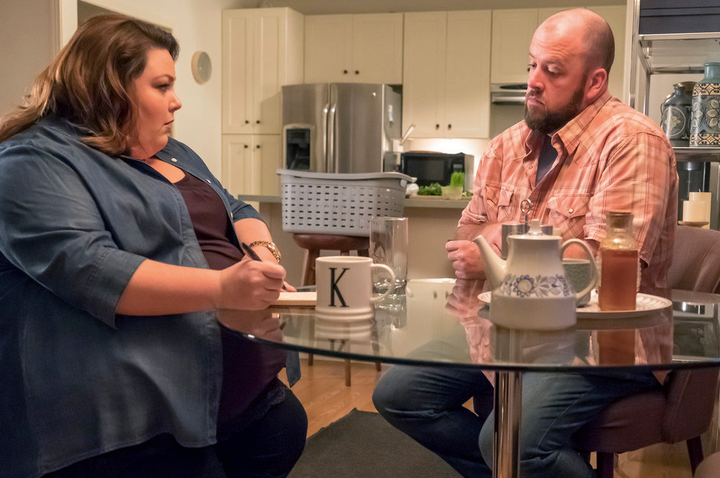 Warning: Spoilers below for "This Is Us" Season 2.
Every episode of "This Is Us" is an emotional journey. Whether fans are dabbing tears away as Jack (Milo Ventimiglia) and Rebecca (Mandy Moore) exchange wedding vows or sobbing as Kevin (Justin Hartley) comforts Randall (Sterling K. Brown) during a panic attack, the Pearson family's familiar stories are meant to tug at our heartstrings.
The show's latest episode, however, addressed a topic not widely discussed on screen: the devastating reality of miscarriage.
In "Number One," which aired last week, viewers learned that Kate (Chrissy Metz), once pregnant, had lost her baby. Tuesday night's "Number Two" detailed the aftermath for both Kate and her fiancé, Toby (Chris Sullivan), as they cope with the sudden loss.
According to a 2015 survey published in the Obstetrics & Gynecology journal, nearly one million miscarriages occur in the U.S. each year, affecting close to 30 percent of pregnancies. Despite its prevalence, truthful depictions of miscarriage rarely make it to television. Only a handful of recent shows have taken on the topic ― "Big Love," "Grey's Anatomy," "Girls" ― and most do not show the lasting effects a miscarriage can have on a woman.
Chrissy Metz told HuffPost that she knew Kate's storyline would be "difficult for people to process," but she hoped that presenting it would open up the conversation.
"Because there is still so much shame surrounding miscarriage, we don't know how to talk about it," the Emmy-nominated actress said, noting that women still need to "collectively fight" for access to quality reproductive health care. "This story is important to tell."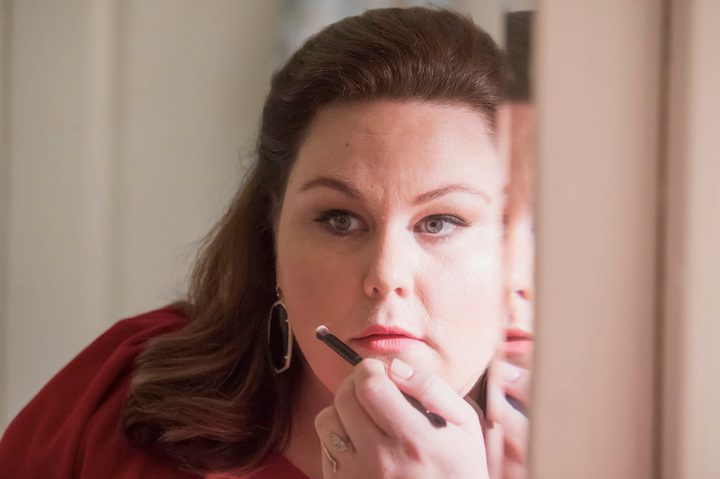 Due to her weight and age, Kate was nervous about her pregnancy from the start, altering her habits to take care of her unborn child. But just as she is preparing for an upcoming checkup, the off-camera sound of a shower curtain crashing down seems to signal that the fate Kate feared has come to pass.
Indeed, her dreams of starting a family have abruptly ended.
Metz herself has never experienced a miscarriage, but the actress knows several women, including family members, who have. Although she said it was tricky to talk about it with those women ahead of shooting the episode (since she had to keep the storyline secret), she did think of their experiences when it came to portraying Kate's heartbreak. According to that 2015 survey, over half of those who had miscarried experienced guilt. "Two in five said they felt like they had done something wrong, and the same number reported feeling alone," The Guardian wrote.
"Kate feels as if she's also been a disappointment," Metz said in discussing the guilt her character carries. "She was bracing Toby and herself in the event a miscarriage happened [but] there isn't a grief manual and as individuals we all process it differently."
After the miscarriage, Kate tries to keep herself busy at work to avoid reliving the loss. Meanwhile, Toby is worried about her mental health and attempts to ease the pain by preventing baby items from being delivered to their home. Eventually, Kate shares a vulnerable moment with her mother, who recounts her own experience of losing a child ― Kate's brother Kyle:
"How can I be this sad?" Kate asks, through tears. "I never even met the baby. Never held him, or her. It wasn't even old enough for me to know."

"I never held Kyle," Rebecca says of her stillborn son. "I remember they asked me if I wanted to because it helps mothers with closure. You know, to hold the baby and say goodbye. But I didn't want to do that because I felt like if I didn't hold him, somehow it would lessen the pain. Which wasn't the case, obviously, because I knew him already. He was so real to me. I mean, the second I found out I was pregnant with you guys, you were all so real to me."
"Both women have let their guard down through this discovery that ultimately brings them closer," Metz said of the rare one-on-one, which helps Kate find common ground with her mom. This also leads Kate to speak with a grieving Toby and tell him that she feels like she failed him.
He responds, "You didn't. You never could."
"I trust and respect him deeply, and I hope that translates onto the screen," Metz said of Sullivan. "Everyone needs a partner through the peaks and valleys. When two people share this sorrow and choose to come out on the other side of it, it's because they want to."
In the final moments of the episode, Kate and Toby rehang the shower curtain as she assures him, "We will not let this break us."
It's a powerful statement, but as Metz expressed, the storyline is but an opening into a larger conversation about the role miscarriages play in women's lives. It will be interesting to see how the loss affects Kate moving forward and how "This Is Us" plans to keep the dialogue going.
"This Is Us" airs Tuesdays at 9 p.m. on NBC.