PHILADELPHIA -- Chris Pronger has become poster-ized in the town where Michael Jordan made it an art form with high-flying dunks over helpless defenders.
The Philadelphia Flyers' star defenseman is hardly celebrating his portrayal Tuesday in a Chicago Tribune poster, though. It shows Pronger wearing a skirt beside a bold headline that declares, "Chrissy Pronger. Looks like Tarzan, skates like Jane."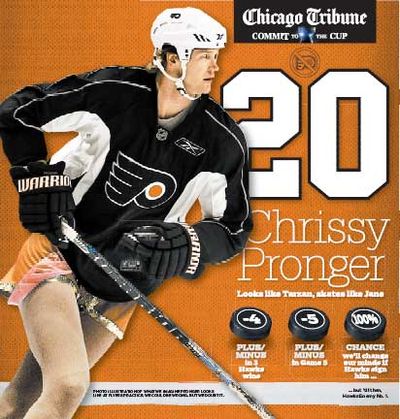 "I don't read what you guys write, good or bad," Pronger said Tuesday. "I really couldn't care, to be honest with you. I'm worried about playing the game."
Others weren't so dismissive of the poster.
"I'd like to see that editor out on skates. I'll take them one-on-one on the ice any day," three-time Olympic medalist Angela Ruggiero told The Associated Press. "They obviously have never seen women's hockey and are living in the dark ages."
Ruggiero found out about the poster via Twitter and expressed disappointment and anger that such demeaning portrayals of women and hockey are still being made.
"For her and others who took offense, I apologize. No qualifiers, I'm sorry," Chicago Tribune sports editor Mike Kellams said in an e-mail. "We were just having a little fun with a guy who has come to personify all that has gotten under the collective skin of Blackhawks fans. Pronger is talented that way. And we were trying to connect to that emotion in a fun way.
"I grew up in Indiana and came to hockey as an adult. Ruggiero vs. me on the rink would be no contest. I know that from what she and her team did at the Vancouver Olympics."
Ruggiero will be in Bensenville, Ill., later this month for the Angela Ruggiero Girls Hockey School, but said she won't be buying the Chicago Tribune and plans to send an e-mail voicing her displeasure.
"Some people are still ignorant," Ruggiero said. "Our sport doesn't get a lot of exposure, so you have to see us play in the world championships or the Olympics to see what the highest caliber of women's hockey is.
"Obviously, it's offensive. It's disappointing more than anything. I grew up playing with boys, trained with NHL players. I would go head-to-head with Pronger any day I could."
Pronger has been an antagonizing force in the Stanley Cup finals against the Blackhawks, but he had the worst game of his career Sunday night when the Flyers lost 7-4.
Pronger, who often logs over 30 minutes of ice time, had a minus-5 rating and was on ice for all but one of Chicago's goals. He sat in the penalty box when the other was scored.
Blackhawks coach Joel Quenneville said he heard about the poster, but declined to comment.
The Tribune's website featured countless remarks - both pro and con - that ranged from calling the poster "stupid, juvenile and offensive, and an embarrassment to journalists everywhere" to suggesting it is "just the spark" the Blackhawks need for a Game 6 victory.
"I don't suppose this will move anyone on either side to change their minds about the image," Kellams said. "Some seem to hate it more than anything in life. Others think it's funny. I figure most folks don't care either way. But it's no more complicated than this: We were just trying to have a little fun. That's really it. Honest."
Related
Popular in the Community