Model Chrissy Teigen put a Twitter user in their place after they attempted to mom-shame her.
On Sunday evening, the pregnant mother seemed to be having a blast cooking up some red wine-braised short ribs and was tweeting up a storm about them.
Not long after, someone seized the opportunity to call out Teigen for cooking a meal with alcohol in it and potentially serving it to her 2-year-old daughter, Luna.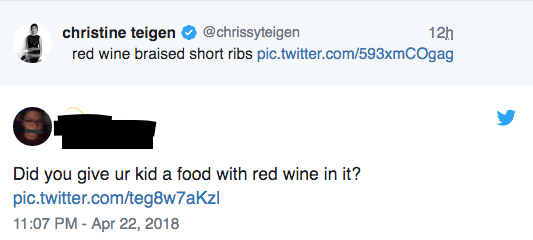 Braised short ribs require a long time in the oven, and studies have found that after two and a half hours in an oven, much of the alcohol cooks out of food.
Despite the person's concern, there was zero proof that Teigen actually fed her daughter the ribs.
So Teigen, who should have an honorary degree in fielding attacks on her parenting, decided to handle the situation in her own, sarcastic way.
We'll raise a glass to that response!
This post has been updated with a note about how alcohol cooks out of food.
Popular in the Community