Chrissy Teigen sees you begging for freebies, rich people, and she doesn't approve.
After showing off "Cravings" packages — which included cooking gear from her signature line — that she sent to influential friends like Ali Wong, Kourtney Kardashian and Shay Mitchell, Teigen revealed Monday night on her Instagram stories that some people wanted one of their own.
"Please don't ask for a box. My marketing budget is not infinite but my love for you is. Also I see some of u asking and you're literally rich," she wrote.
Then, in a video, she said, "Anyhow ― that [previous note] wasn't even written for the fans asking ... That was honestly just meant for my friends that are literally writing, saying, 'Uh, mine hasn't gotten here yet.'
"That's 'cause I didn't send it to you," she joked as her husband, John Legend, laughed in the background. "Just kidding ― kind of."
Teigen clarified that while her comments were directed at just a few people in her DMs, packages were still on the way for friends in Los Angeles and that fans can expect a giveaway soon.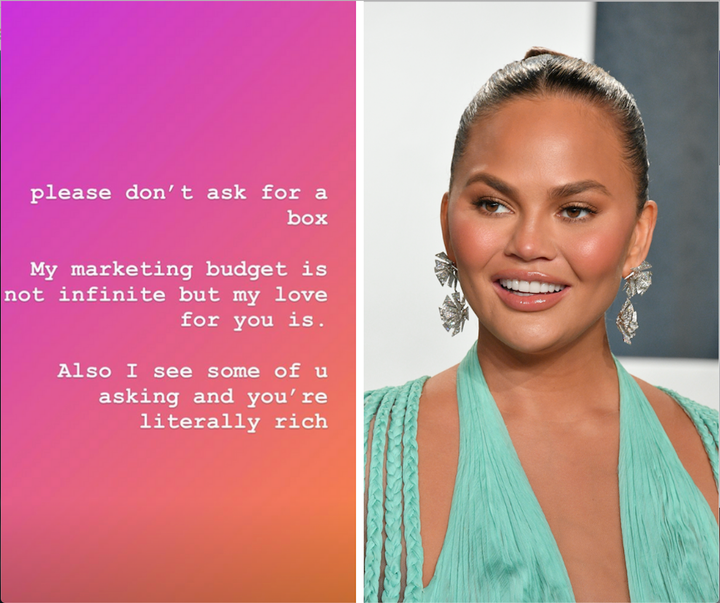 Teigen said that putting together the packages is hard work, especially since she has a small team ― contrary to what others might think.
"Maybe that comes from someone putting it in your head that we're just a content farm of endless money and just got so big so fast, but I promise we didn't," the supermodel said, referencing recent comments made by New York Times food columnist Alison Roman.
Roman called out Teigen and lifestyle guru Marie Kondo in a recent interview with The New Consumer.
"[Teigen] had a successful cookbook. And then it was like: Boom, line at Target. Boom, now she has an Instagram page that has over a million followers where it's just, like, people running a content farm for her," Roman said.
Roman added, "That horrifies me and it's not something that I ever want to do. I don't aspire to that. But like, who's laughing now? Because she's making a ton of fucking money."
The bestselling author of the cookbooks "Dining In" and "Nothing Fancy" later backtracked and apologized for her remarks.
Teigen may have forgiven the comments ― but she clearly never forgets.
Popular in the Community