Chrissy Teigen is going to get a lot of "OMG, Mom, you're so embarrassing!" in the future when her daughter discovers her old Sports Illustrated covers, so can we just lay off her for the time being?
Ten days after giving birth to her first child, the supermodel stepped out for a date night with husband John Legend only to find her Instagram devolve into a hotbed of Internet delusion. Many criticized Teigen for leaving her new baby at home so soon after the birth, for letting a nanny do the heavy lifting and even for the smell of her genitals. Damn, everyone, chill. Maybe she was just hungry?!
Teigen shared a sampling of some of the most outrageous responses, captioning screen shots of her comments section, "I went to dinner. People are pissed. Good morning!"
Luckily, it seems like motherhood has only sharpened Teigen's wit. The "Lip Sync Battle" host followed up with a series of tweets poking fun at her followers' holier-than-thou attitude and unfounded complaints about her parenting style.
And for the final FU with a cherry on top, Chrissy had the best response to a question concerning the well-being of her little one. When asked, "How's baby Luna?" Teigen shot back with, "I dunno I can't find her."
Although some of her followers might disagree, it looks like Teigen is nothing but a doting mom. After announcing the birth on Twitter, she shared a loving photo of mother and daughter on social media so cute that we bet even her most outspoken haters let out an aww.
Stay tuned for next week, when Teigen dares to go on a lunch date!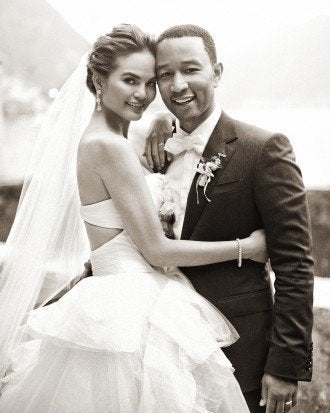 Chrissy Teigen and John Legend