Motherhood a second time around has made Chrissy Teigen even more of an inspiration than she already was.
The "Lip Sync Battle" host and her husband, singer John Legend, welcomed a baby boy named Miles last week, and she's once again dispelling the myth that post-childbirth life is more glamorous for mothers in the spotlight.
While Legend was attending the Billboard Music Awards on Sunday night, Teigen opted to stay at home with the kids and share a very real glimpse of what her world looks like at the moment.
The supermodel posted an Instagram of herself cradling the newborn while wearing postpartum mesh underwear, as daughter Luna plays the harp in the background.
This is peak Teigen, shining a light on an experience most women face after giving birth, like postpartum bleeding and incontinence, but few celebrities openly discuss.
"If you haven't seen @aliwong's new Netflix special, you are bad at picking Netflix specials," Teigen wrote, adding the hashtag #asianpearunderwear.
After welcoming her daughter in 2016, Teigen won the respect of moms everywhere when she tweeted, "no one told me i would be coming home in diapers too."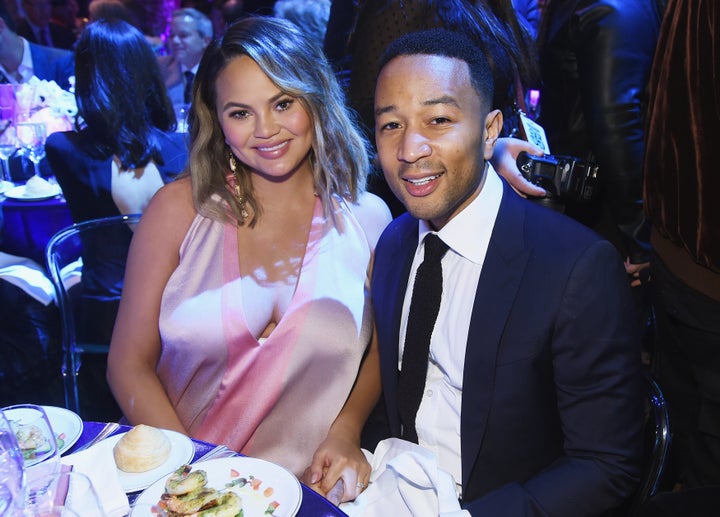 Teigen has been predictably candid about her new reality as a mother of two, revealing that she's adjusting better this time around due to a major difference.
"I can confirm postpartum life is 90% better when you don't rip to your butthole. Baby boy: 1 point. Luna: 0," she wrote days after giving birth.
Teigen revealed that Miles does, however, share at least one similarity with his big sister: his nose.
The parents posted our first look their new arrival on Instagram over the weekend, writing that the family is "overwhelmed with love" and "drowning in his little peeps and nuzzles."
After giving birth to Luna, Teigen jump-started a national conversation about postpartum depression by sharing her own experience with months of living in pain. At the time, she was one of few high-profile women to speak openly about the topic. Since then, others like Bryce Dallas Howard and Drew Barrymore have followed suit.
"I also just didn't think it could happen to me," Teigen wrote then. "I have a great life. I have all the help I could need: John, my mother (who lives with us), a nanny. But postpartum does not discriminate. I couldn't control it."
She was eventually diagnosed by a doctor and started taking antidepressants with a plan to begin therapy.
"I look around every day and I don't know how people do it," she wrote. "I've never had more respect for mothers, especially mothers with postpartum depression."
CORRECTION: A previous version of this story misstated the title of Ali Wong's Netflix special.