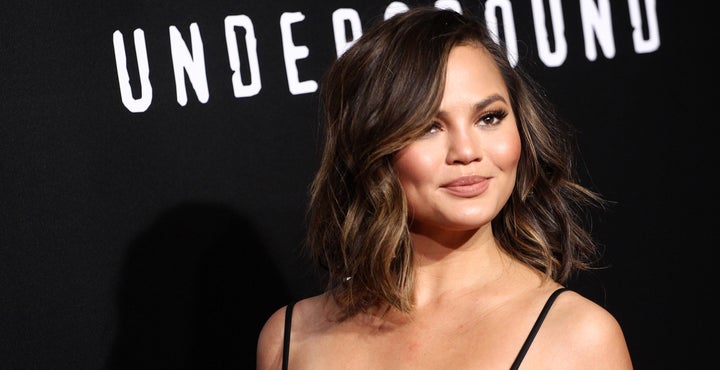 Chrissy Teigen thinks it's important for people to leave it to women to discuss if they want children instead of simply assuming every woman does. 
The model and mother of 11-month-old daughter Luna sat down with Refinery29's Arianna Davis to talk about her struggle with post-partum depression and why our society needs to accept women who choose to lead childfree lives. The interview is part of R29's new series Mothership, which highlights women and their different experiences with motherhood or their choices to be childfree. 
When Davis broached the subject of motherhood as "an if, not a when, for women," Teigen replied that women should have the space to discuss motherhood as an option, not a guarantee. 
Davis revealed that she is personally struggling with the decision to have kids or not, especially when people assume everyone wants children. 
"Well, first of all, I want to commend you in your decision to be open about maybe not having children at all," Teigen told Davis. "I think it's really commendable to even doubt the process out loud, because I don't feel like people should be pressured to have children."
Teigen said that all too often people are appalled when a woman reveals it was her choice to live a childfree life. 
"I'm sure that when you announce that fact [that you're trying to decide if you want children] to somebody, they're very quick to be like, 'Gasp! Why don't you want kids?'" Teigen said. "And I've never been that way with people, because I don't think any of us should assume all women's goals are to have kids. It's a choice!" 
This isn't the first time Teigen's spoken out about the pressures women face to have children. 
In a 2015 interview with Tyra Banks, Teigen ― who, at that point, did not have children ― explained how hard it was for her and her husband to have a child and the shame she experienced surrounding infertility. 
"It's been a process! We've seen fertility doctors. And then once you open up about all those things to other people, you start learning that a lot of people in your life are seeing these people, and they have this shame about it," she told Banks. "So anytime somebody asks me if I'm going to have kids, I'm like, 'One day, you're going to ask that to the wrong girl who's really struggling, and it's going to be really hurtful to them.' And I hate that. So I hate it. Stop asking me!"
Head over to Refinery29 to read Teigen's full interview.
Calling all HuffPost superfans!
Sign up for membership to become a founding member and help shape HuffPost's next chapter
BEFORE YOU GO