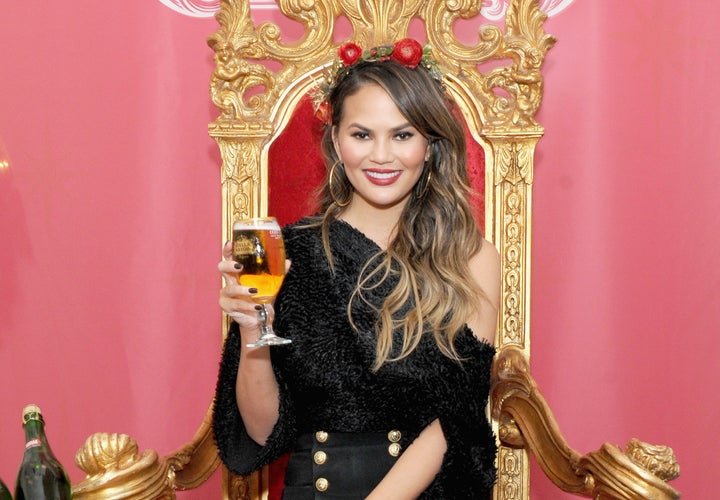 Thanksgiving for Americans around the country is especially fraught this year. With only mashed potatoes and stuffing standing between you and that one uncle who's dedicated his Facebook feed to boycotting a Broadway show he'll never get tickets to, "thankful" might not be the word best used to describe the current predicament. 
That's why we turned to Chrissy Teigen for some much-needed guidance on how to survive the holidays with family members of differing political persuasions. As necessary as it for us all to reach out across the dinner table and engage ― if not us, then who else? ― it's just as vital to practice self-care and remember there's a reason you only see these people once a year. 
Teigen also revealed how she plans to celebrate Thanksgiving ― her first with baby daughter Luna ― and why she hopes 2017 will be better than the endless barrage of garbage that was 2016. 
"Drinking always helps, especially this year," the supermodel, who has partnered with Stella Artois this holiday season, told The Huffington Post about coping with conservative relatives. "It's hard because people get in such huge fights around the dinner table. I think obviously try and never talk about politics or religion, but it's going to come up, especially if you're in my house or John's home and everyone has very strong opinions all the time."
"This is going to be a fun one for families," she continued.  "I have heard a lot about people completely unfriending people they thought were great friends on Facebook."
Over the course of the election, Teigen has emerged as a much-needed voice of sanity on social media, unafraid to go toe-to-toe with our president-elect while dispensing sage advice on how to keep it real amid the craziness. Twitter, she says, has been especially toxic recently, which prompted her to make her account private one month before Election Day in an act of self-care.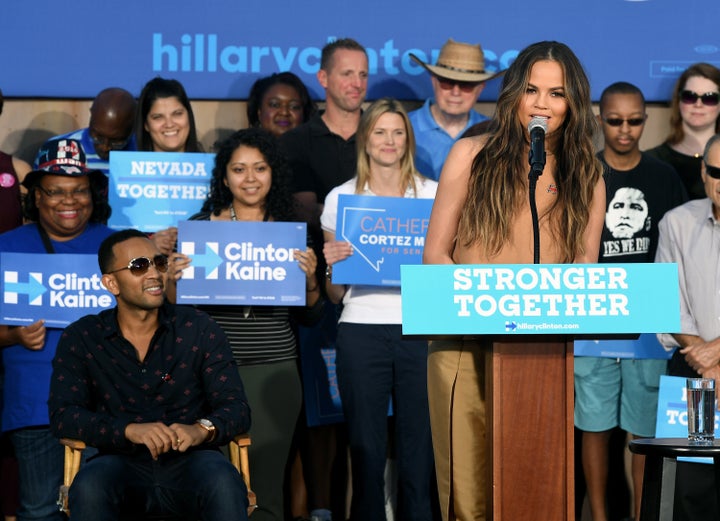 "The reason why things are so heated and people seem meaner and more divided has everything to do with the election, of course," Teigen said. "Going private is very freeing. I was reading everything and I read way too much ... It wasn't that I didn't want to hear differing opinions. It was I didn't want to hear hatred."
As social media has become an increasingly unfriendly place for a celebrity to voice their political opinion, Teigen says she's relied on an old love ― no, not John ― to help her unplug when she needs a breather from the political circus. 
"My escape has always been reality television," Teigen admitted, placing a special importance for her love of the "Real Housewives" franchise. "It's like the background noise that makes you feel sane can relax now, even though people are screaming at each other."
"If I'm nervous or anxious about something, I need pure silence," she added. "Even music doesn't tend to calm me down in the same way unless it's a rough flight and I'm alone and I listen to John to feel like he's with me."
But she'll turn off Bravo ― at least for a little while ― to make Luna's first Thanksgiving one to remember, even if she's too young to partake in any of Teigen's mouth-watering culinary creations. 
When Thursday rolls around, Teigen will be celebrating Thanksgiving with her mother, who lives with her and Legend, and will welcome the singer's family into their newly renovated Beverly Hills home.
"Family is so important around the holidays, for me at least, so I want them around," she said. "We're going to have his whole family and my whole family as well for Thanksgiving. I can't wait to see everybody gathered around our big table."
After a year of cookbook promoting, "Lip Sync Battle" hosting and political campaigning, Teigen says she's ready to slow down and focus on her family in 2017.
"I would love another child. I don't know how soon, but if it happened tomorrow that would be great," she said. "But I'm not gonna take on what I did last year. I want to enjoy my family and my daughter and go on tour with John more. Maybe, I'll fulfill my destiny of being a Real Housewife."
From her lips to Andy Cohen's ears. 
Calling all HuffPost superfans!
Sign up for membership to become a founding member and help shape HuffPost's next chapter
BEFORE YOU GO
PHOTO GALLERY
Chrissy Teigen