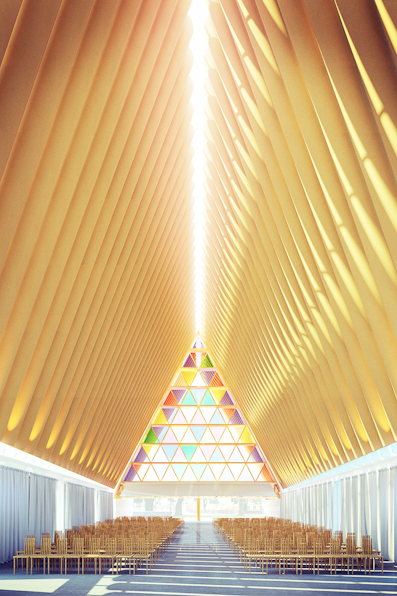 A paper house of worship that seats 700. A pop-up shopping mall consisting of brightly painted shipping containers and pop-up bars with funky names such as King of Snake and Smash Palace.
Sounds like something you'd encounter in design-mad Japan or über-chic Berlin. Not in conservative Christchurch.
Before the massive earthquake that hit on Feb. 22, 2011, killing 182 and destroying much of the downtown, New Zealand's second-largest city was an architectural byword for traditional, not trendy.
In the wake of the disaster, impermanent structures designed to kick-start urban life, including a temporary rugby stadium mounted on steel tubes, are popping up all over town. Most inspiring is the five-story-high "Cardboard Cathedral" that that officially opened on August 15, replacing iconic Christchurch Cathedral, irreparably damaged in the quake.
"The Cardboard Cathedral will be open to all denominations and stand as a universal symbol of the city's recovery," said Anglican church spokesman Craig Dixon when I interviewed him a few months ago during my visit to this earthquake ravaged city. The church has become a vital element in the city's long journey toward recovery.
It's also a place where people can come to enjoy edgy architecture. A lifelong design buff, Dixon said he got the radical idea from an article he read that featured the work of Japanese architect Shigeru Ban, who specializes in emergency architecture -- designing temporary structures in disaster zones around the world. Ban created a similar structure for the people of Kobe after a massive earthquake devastated their city in 1995.
'A crazy idea'
"When I approached church staff about putting up a temporary structure and inviting this Japanese guy to come and design it, they thought it was a crazy idea. But eventually they said sure, get in touch," recalled Dixon. Ban agreed to come to New Zealand for discussions, and soon the project was born.
Construction began in July 2012 on a foundation of 60-foot-long tubes protected by a polycarbonate roof and solid concrete flooring, with added support from lumber beams. Initial concerns that worshippers might meet their soggy ends in a collapsing house of cards proved unfounded, as did aftershock worries: Paper buildings are very earthquake resistant.
Moveable feats
Shipping containers are also virtually quake-proof, which is partially why they were used in Re:START, a splashy temporary outdoor retail space in downtown Christchurch.
Opened in October 2011, Re:START now includes approximately 40 shops, a number of food caravans and a popular market on the weekend.
"The idea was to give these businesses an opportunity to recover, and to have something safe that people would want to come back to," explained guide David Hiatt as we toured this colorful collection of high-end clothing outlets, memorabilia shops, banks and trendy cafes. Easily relocated, they're all stacked and scattered like so many giant Lego pieces within easy walk of some of the city's accommodations, its art gallery and the Avon River.
"We didn't have a shop in Christchurch before, but because of the short leases on these containers it made it more attractive," said Helen Morrish, manager of the Mini Cooper Clothing Co., which occupies one of the containers. "People don't know what to expect, so they are always surprised by how nice it is."
A hit with locals
Built with a mind to attract tourists, this kaleidoscopic retail mix is also a hit with the locals.
"It's just a wonderful area with a really funky look," said Christchurch retiree Helen Martin. "At first, all I wanted to do was sit in the middle of them and just look. They literally popped up out of nowhere."
Christchurch's embrace of such unusual architecture, whether religious or retail oriented, is a testament to the ability to create beauty amid bereavement.
"The Cardboard Cathedral will be a real symbol of hope for our recovery and a creative statement that will encourage others to get out there and do something unique, too," said Dixon.
As Dixon's once 'crazy' brainchild takes its prominent place among the architectural marvels of a city reborn, the Cardboard Cathedral that now welcomes the world to worship is also a testament to Christchurch's remarkable resilience.
Getting there
Air New Zealand offers daily nonstop service to Auckland from Los Angeles and San Francisco, with connections to Christchurch.
Hotels
The George is a boutique luxury hotel offering five-star accommodations situated in the heart of Christchurch, just steps from the city's cultural precinct and key attractions.
Otahuna Lodge is a historic 30-acre Relais & Châteaux luxury estate located a 25-minute drive from Christchurch International Airport. otahuna.co.nz
Dining and nightlife
New cafes, restaurants and shops are popping up frequently. Check out Popup City for the latest dining and nightlife options.
Out and about
Within two hours of Christchurch you can ski, play golf and bungee jump; go whitewater rafting, mountain biking, wind surfing or whale watching; and visit world-class vineyards and gardens.