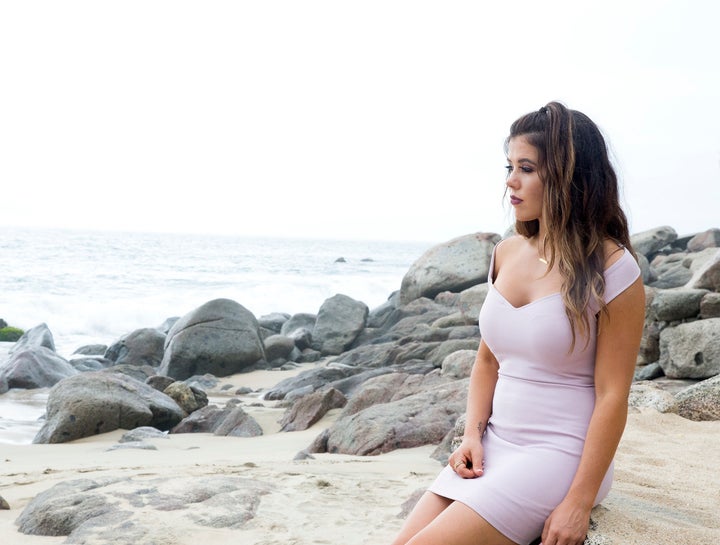 After "Bachelor in Paradise" star Christen Whitney became the target of cast jokes about her passion for scallops, the 26-year-old took the ribbing in good humor. But in an interview on the HuffPost podcast "Here to Make Friends," she admitted that the scale of mockery was hard to swallow.
"It was too far a couple of times," she said, referencing several jokes made about her by cast bartender Wells Adams. 
The trouble started when Whitney showed up in "Paradise." She soon asked Matt Munson on a date ― although he'd been hanging out with Jasmine Goode, a friend of hers from their time on "The Bachelor" Season 21, since the first day of taping. While Munson had been trying to distance himself, and took the initiative to tell Whitney he'd like to go on a date with her, Goode remained invested in their relationship and was furious that a friend of hers was pursuing him. She and many of the other cast members mocked her new rival behind her back for once taking scallops to go during a girls' night out, then eating them with her fingers in the car, inspiring the nickname "Scallop Fingers." 
Whitney didn't learn about the epithet for several days. Even after hearing about her nickname, she didn't realize the scope of the teasing until shortly before the episodes aired, when she saw a pre-cut version. "I was terrified for about a week and a half," she told "Here to Make Friends." Whitney felt better, she said, when the episodes aired and many viewers defended her and condemned the cast's treatment of her.
Though Whitney said she'd apologized repeatedly to Goode for hurting her by pursuing Munson, she also said she didn't apologize for taking him on the date. Goode has stood by her behavior on "Paradise," despite criticism. "When you get backstabbed by a friend it sucks don't ya think..." she tweeted at one point.
"To see her continue to try and turn people against me on social media, that was, I would say, hands down the hardest part in all of it," Whitney said.
The love triangle drama will likely be revisited during this week's reunion portion of the finale, which taped at the end of August, and it sounds like the on-camera conversation won't fix anything. Asked how it went, Whitney responded, "I was a little deflated, because I felt like I didn't want to focus on that kind of drama, and when you have someone kind of yelling at you a lot, you just kind of sit there." Yikes. We won't hold our breath when it comes to a reconciliation.
For the rest of the interview with Christen Whitney, check out HuffPost's Here To Make Friends podcast below:
Do people love "The Bachelor," "The Bachelorette" and "Bachelor in Paradise," or do they love to hate these shows? It's unclear. But here at "Here to Make Friends," we both love and love to hate them — and we love to snarkily dissect each episode in vivid detail. Podcast edited by Nick Offenberg.
Want more "Bachelor in Paradise" stories in your life? Sign up for HuffPost's Entertainment email for extra hot goss about the show. The newsletter will also serve you up some juicy celeb news, hilarious late-night bits, awards coverage and more. Sign up for the newsletter here.
REAL LIFE. REAL NEWS. REAL VOICES.
Help us tell more of the stories that matter from voices that too often remain unheard.
BEFORE YOU GO
PHOTO GALLERY
Tweets About "Bachelor In Paradise" Season 4, Episodes 7 & 8