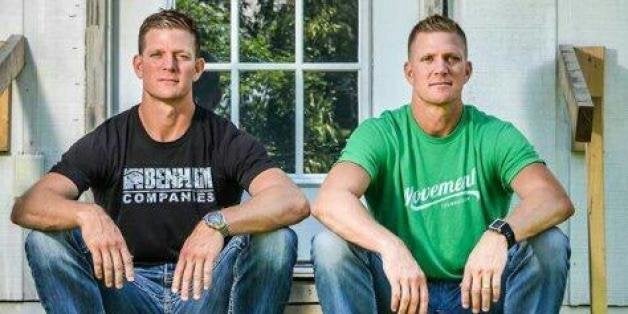 HGTV announced on Wednesday that it would not be moving forwards with the show "Flip It Forward," starring twin brothers Jason and David Benham. The program was scrapped after Right Wing Watch reported on the Benham family's long-held anti-gay and anti-choice views.
HGTV's decision was condemned as "intolerant and discriminatory" by Faith Driven Consumer, a Christian group which has launched a petition to demand the reinstatement of the show for the fall 2014 lineup. Over 3,000 people have added their signatures to the petition, which is being promoted on Twitter with the hashtag #FlipThisDecision.
Others were quick to attack HGTV for dropping the show, including the Family Research Council, radio host Laura Ingraham, author David Limbaugh, and many more. Pat Robertson called the decision "outrageous" and warned that it was a sign that society is no longer "built around the Bible." He added, "Good grief, isn't there supposed to be some freedom? Aren't we supposed to have a First Amendment?"
The views that the Benham's [sic] have publicly expressed reflect a biblical view of life, sexuality, marriage, and family that have stood the test of time for thousands of years and continue to be held by the majority of Americans and your viewers – including those in HGTV's home market of Knoxville, Tennessee.

HGTV's decision to exclude those who hold to a faith-based viewpoint held by 46 million Faith Driven Consumers who spend $1.75 trillion annually has no place in America's inclusive rainbow of diversity.
David and Jason's father, Flip Benham, is an evangelical Christian minister and head of Operation Save America, a group which has protested against the interfaith Sandy Hook memorial, LGBT rights, and abortion rights, to name just a few issues. He also reportedly protested outside a mosque while shouting, "Jesus hates Muslims."
In a statement to USA Today, David and Jason said, "Our faith is the fundamental calling in our lives, and the centerpiece of who we are. As Christians we are called to love our fellow man. Anyone who suggests that we hate homosexuals or people of other faiths is either misinformed or lying."
With regards to the cancellation of their show, they commented, "We were saddened to hear HGTV's decision. With all of the grotesque things that can be seen and heard on television today you would think there would be room for two twin brothers who are faithful to our families, committed to biblical principles, and dedicated professionals. If our faith costs us a television show then so be it."
Their father Flip was not so diplomatic. In an interview with LifeSiteNews, he called the gay lobby "the biggest bully in the country."
""There's no one who dares oppose them," he said to LifeSiteNews. "No corporation would dare stand up to this juggernaut of the homosexual agenda."
Benson expressed his regret that the HGTV cancellation was most likely linked to some of his personal actions. "I think of my sons, who have to suffer for the fact that their dad speaks up about the Gospel of Jesus Christ," he said.
Nonetheless he was clear on his beliefs, stating, "Homosexuality is not a good thing. It destroys those who practice it and nations that approve of it."
Not all Christians are lamenting HGTV's cancelation of 'Flip it Forward.' Rev. Susan Russell, a pastor at All Saints Church in Pasadena, California, told The Huffington Post:
The First Amendment absolutely protects the right of the Benham brothers to preach, practice and believe whatever they choose – whether that choice is anti-gay or anti-gluten. That's part of the beauty of this country. Another part of the beauty of this country is that free enterprise allows networks – like HGTV – the freedom to decide what kind of values they want represented by the talent they hire. And this week HGTV made the decision that it does not want to give air time to two brothers who, when they are not flipping houses for profit, are proclaiming that equal protection LGBT families is "demonic" and protesting a woman's right to reproductive freedom.

As a Christian priest and pastor, my response is a big fat "Amen."
REAL LIFE. REAL NEWS. REAL VOICES.
Help us tell more of the stories that matter from voices that too often remain unheard.
BEFORE YOU GO
PHOTO GALLERY
Most Inspiring LGBT Religious Leaders