Last week, when Air Force Lt. Gen. Ronnie Hawkins, the new head of the Defense Information Systems Agency (DISA), held a commander's call to introduce himself to DISA's employees, the new boss showed a PowerPoint presentation that included the 18 rules he lives by.
The first of "Ronnie's Rules" was "Always put God first, and stay within his will," and the last was " Alway remember that God is good -- all the time!"
The alpha and omega of their new commander's "rules" being so overtly religious shocked many DISA employees and made them extremely uncomfortable. Twenty-one DISA employees, both civilian and military, immediately contacted the Military Religious Freedom Foundation (MRFF), with one of these employees sending MRFF a copy of Lt. Gen. Hawkins presentation.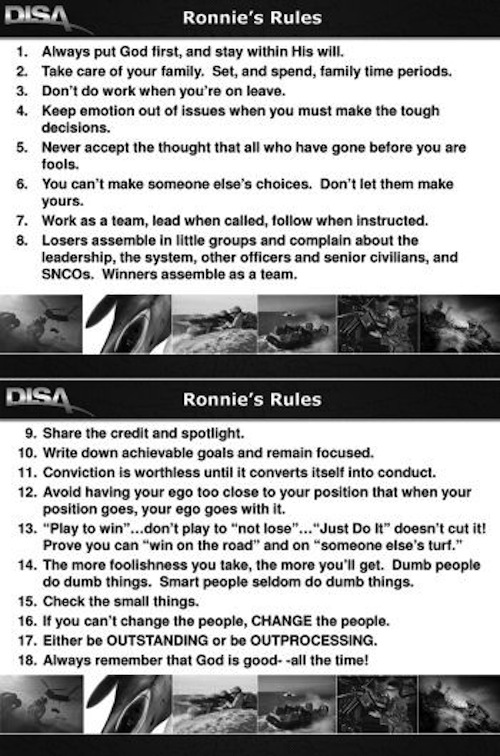 MRFF founder and president Mikey Weinstein reached out to officials at the Pentagon on behalf of the DISA employees, but getting no response went to the media.
As reported by the Air Force Times, Lt. Gen. Hawkins was quick to excuse his clear endorsement of religion in a command setting by saying that the slides of his "rules" were "in no way a directive or expectation I have for our dedicated men and women."
Really? A commanding general doesn't think that what he presents at a commander's call as his "rules" won't be seen as what he expects from his subordinates?
Well, if the general has no expectations that the men and women under him will feel any pressure to follow his religious rules, then I guess he has no expectations that his subordinates will feel any pressure to follow any of his other 16 rules either.
Therefore, it is clear that under Lt. Gen. Hawkins the 16,000 employees of DISA will no longer be expected to take care of their families, to keep their emotions out of their decision making, to stay focused, to work as a team, to be outstanding or winners, to share the credit and spotlight with their teammates, to conduct themselves with conviction -- and they will absolutely not be expected not to do dumb things!
With none of these expectations to worry about, it sounds like DISA is going to be a mighty easy place to work under Lt. Gen. Hawkins.
Popular in the Community