 A new picture of Christian Bale emerges in a just-released biography by his former publicist and assistant, Harrison Cheung. Christian Bale: The Inside Story of the Darkest Batman, published May 29 on BenBella, reveals an actor who fought desperately to emerge from the world of independent British cinema into a complex, often incorrigible but above-all, ambitious global superstar.
HuffPost Entertainment read the book and found the following 14 details to be of particular interest. Some of these tidbits were previously covered in the media, but others -- like which of his characters he most identifies with -- appear to be new information. Before reading, consider one important note: Cheung once worked for the "Dark Knight Rises" star and no longer does. The following items are all taken from a book that is written from the former publicist's point of view. Cheung writes in the book that he was never actually paid for his years of service, so their relationship was certainly not uncomplicated.
We've reached out to Bale's representative for comment and will update the post as soon as we receive word.
1. Edward Norton, Johnny Depp and Brad Pitt all passed on the role of Patrick Bateman in "American Psycho." Though there was a great deal of negative buzz surrounding the picture (which changed directors as well), Bale felt the film could help him break into America. "I don't want to be a movie star," Bale told Cheung. "I want to be an actor. All this talk of career suicide ... I rather like that I'm running contrary to what everyone expects."
But Leonardo DiCaprio wanted the role. Lionsgate issued a press release during Cannes in 1998, announcing that Bale had been replaced. Bale was livid: "Losing this role is like having a pencil shoved through my brain." The studio offered him a supporting role, but Bale refused to consider that. DiCaprio eventually bailed after Gloria Steinem urged him not to take the role, which she said could inspire copycat murders from within his teen fan base.
The role then went to Ewan McGregor, who had just been screwed out of his lead part in "The Beach" by the newly landed DiCaprio. Bale begged McGregor not to take it, and the latter passed.
2. On the set of "American Psycho," Bale was required to appear nude multiple times. He used a "cock sock" (Cheung says it's an "industry term"), a "fleshtone spandex pouch" which covered his genitalia. Co-star Guinever Turner mocked the size of Bale's sock, which led Bale to exclaim, "Goddam her!"
3. Bale would call up family and friends in the character of Patrick Bateman, greeting associates with "It'sssssssss Patrick!"
4. DiCaprio proved to be Bale's biggest rival. Movies the latter lost to the fresh-faced Leonardo: "This Boy's Life," "What's Eating Gilbert Grape" "Romeo & Juliet," "Titanic," "The Beach."
5. He turned down the role of James Bond. After "American Pyscho," Bond producer Barbara Broccoli met with Bale and "intimated that the role of 007 would be Christian's for the taking" after Pierce Brosnan's contract expired. Bale resented the character for representing "every despicable stereotype about England and British actors." He told Broccoli that he had "already played a serial killer."
6. He was up for the part of Jake in "Training Day," but was told he looked to old to play the rookie cop. The role would eventually go to Ethan Hawke, who won his first Oscar nomination for the part.
7. Bale once paid Cheung with a computer, and the following note: "Enjoy the computer. Sorry I've not been able to pay you anything for all of your work, but I hope the computer can suffice until a time not too far in the future when we'll form a huge corporation, take over the world and sell out! Love, Christian"
8. Bale once admitted that, of all his roles, he identified most with Patrick Bateman.
9. He had an especially fraught relationship with his fans. When a fan letter reached his Manhattan Beach home, he sent a fax to Cheung that said the fan should be "eliminated." "Better to be safe than sorry," he wrote. "A screwdriver thrust thru the eyeball into the brain prevents any screaming. Let me know how it goes." When fans would approach him in public, Bale would "lecture little girls about being rude and intrusive until tears streamed down their faces, and their parents tugged them away from our table."
10. Steven Spielberg asked Bale to do a cameo in "Schindler's List." Bale refused.
11. Bale's infamous crash diet for "The Machinist," which led him to lose 65 pounds, consisted of water, an apple and one cup of coffee per day, with the occasional whiskey. Eventually, it cost him his social life. "In the end, I had to stop going out. I realized that wasn't going to work. I'd do a bit of eating hardly anything and losing 51 pounds and then I'd put on 7 pounds bingeing one night because I'd have a couple of drinks. So I decided no more social life, no more friends, no more dinners, no more drinks."
12. "It only took me five years of therapy to get past my Bale years," Cheung writes. "My therapist would describe my condition as post-traumatic stress disorder." Bale demanded Cheung sign a non-disclosure agreement before paying him, which Cheung refused to do.
13. "Batman Begins" was a passion project for Bale, and one that he dedicated to the memory of his father. This despite the fact that his relationships with his parents were deeply complicated (Bale's father tried to stop his son's involvement with "American Psycho," for example).
14. Bale did not attend "Dark Knight" co-star Heath Ledger's funeral.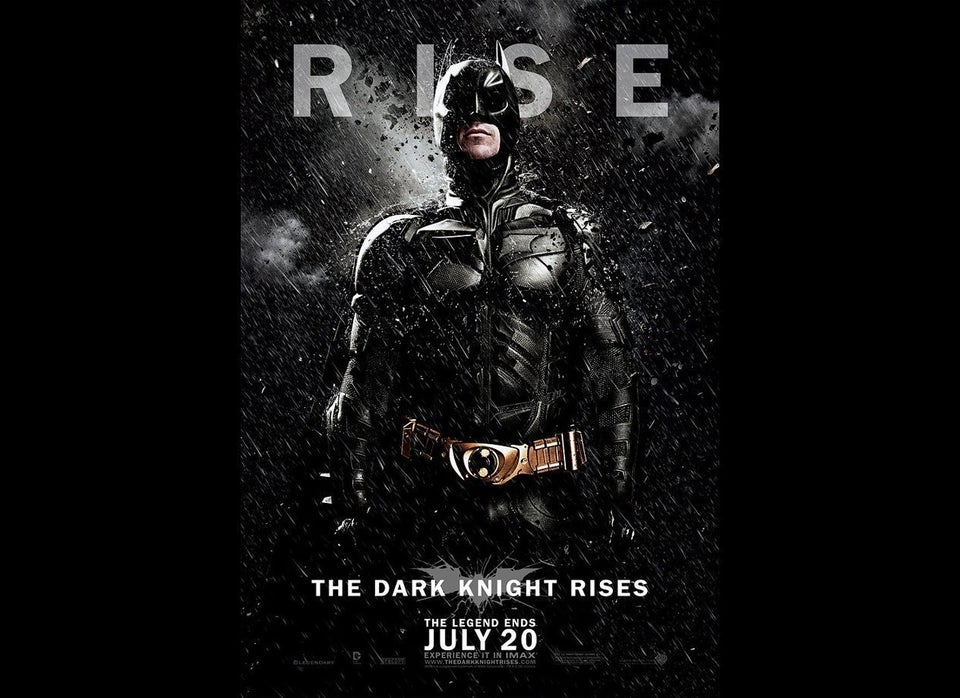 'Dark Knight Rises' Posters
Popular in the Community