A few nights ago, I got home from a quick (but extraordinary) little vacation with my eight-year-old son. As soon as I got him off to bed, my husband and I sat down to watch a few minutes of the Academy Awards, which we had recorded.
When Christian Bale accepted his Oscar for Best Supporting Actor, his graciousness and heart were right on his sleeve, bursting through his emotion. His final words were for his child: "And for our little girl, who's taught me so much more then I'll ever be able to teach her."
And, wham! It hit me so hard that the reason my cup was flowing over from the four days I'd just spent with my boy was that he gave me opportunities to grow, expand and reach deeper into my heart.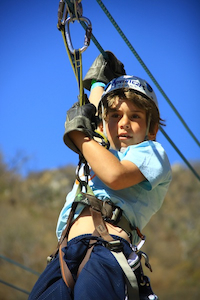 On our vacation, we talked about a lot of things and un-earthed a wound he had about being bullied and made fun of in second grade. And I was ultimately to blame. Inadvertently, I had put some juice in a toddler's "sippy cup" in his lunch box. Apparently I missed the cut off date for throwing out the baby sippy cups. My bad. Some schoolmates laughed at him and made fun of him for having a baby's cup, and it cut him to the core.
Through a deep and earnest conversation where I found my mother's heart practically beating outside of my body, we came up with a solution in which he got to decide how to keep his heart open while protecting it from the piercing words and actions of others. It was a watershed moment I think we'll both remember forever.
The next day we went on an outdoor adventure with seven long zip lines, rock climbing, hanging bridges and more. He blasted through the entire day with a courageousness I know came from him feeling more decisive and "in control" of his world.
I thought about the children whose delicate hearts we have touched in Uganda, the children who will always be "Just Like My Child." When I was in Uganda in January, I had deep conversations with our scholarship child, William, about his fears and outrage at the bombings in Uganda this past July, his commitment to helping his mother through her AIDS crisis, and his adolescent desire to be hip and cool while honoring his studies.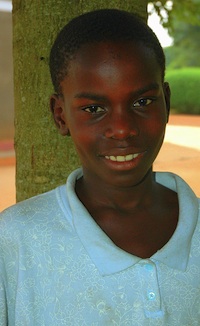 I know, without a doubt, that William's ability to think and dream bigger were made possible by people like you, who've invested in his future. Without your help, this boy could have only taught us about the depths of poverty. Instead, today and tomorrow, he will teach us about fortitude, courage and leadership -- just like my child has taught me.
The bottom line is that the seed of humanity in each of us can grow more vibrant with love or can shrivel through neglect.
Thank you, Christian Bale, for reminding us that the most divine aspect of parenting is the ability to grow through our children.
Photos courtesy of Vivian Glyck