A Baptist-run children's group in Oklahoma is passing up a donation of more than $18,000 because of the donors' religious affiliation ― or lack thereof.
Matt Wilbourn, an atheist from Muskogee, Oklahoma, said he tried to make a $100 donation on behalf of the Muskogee Atheist Community to the Murrow Indian Children's Home on Monday. The nonprofit rejected the contribution, saying in a statement that accepting money from an atheist group would go against its religious principles.
Wilbourn wondered what would happen if he tried to give more money to the group. So he created a GoFundMe page. The effort quickly went viral, topping $18,000 in just two days.
As of Wednesday, with the donation fund still growing, the children's group continued to refuse to take the donation.
"I think it's horrible. They're literally placing their religion ahead of the betterment of the children that they supposedly care for," Wilbourn told Patheos.
A representative from the Murrow Indian Children's Home, which provides housing and care for up to 36 Native American children at a time, would not respond to questions from The Huffington Post. The organization released a statement on Facebook saying the home was "founded on Biblical principles over 100 years ago by a Baptist Missionary."
Those Biblical principles include believing and trusting in the Trinity; God the Father, Jesus the Son, and the Holy Spirit.

To accept money for an advertisement which would indicate "In Honor of the Muskogee Atheist Community" in the advertisement, would be contrary to those Biblical principles upon which we at Murrow stand. We are Christians, believing in God, Jesus and the Holy Spirit.

We appreciate the generosity of Mr. and Mrs. Matt Wilbourn for their thoughtful donation to the Murrow Children's Home. This decision is not about money or personal matters. It is solely about our religious beliefs and Honoring God our Father.
Wilbourn told local news stations that he filled out a form with his donation that asked if there was any person or organization the donor wanted to honor. He noted the Muskogee Atheist Community, which he and his wife, Keli, founded.
"Murrow cannot Honor the Atheist non-belief in God our father, and Honor God our Father under our Biblical principles," the children's home wrote in its statement. "Those two positions are totally opposite of each other."
According to its website, the organization is affiliated with American Baptist Churches USA and "provides a home for American Indian children that are in out-of-home placement as a result of abuse and neglect." It also says it "provides physical, emotional, educational and spiritual support to the
children."
Many Facebook users noted that such a large sum of money could improve the lives of children cared for by the organization ― regardless of qualms over the donation's origins.
As it turns out, a number of Christians have donated to the GoFundMe.
"Thank you for loving the kids," wrote a pastor and his wife in the comments.
Another person commented: "I am a Christian who stands with the Muskogee Atheist Community today! ...As a Christian, I am deeply saddened to hear about the way you have been treated, which is the exact opposite of what Jesus taught. I'm proud of you guys for taking the high road on this one!"
A representative for American Baptist Churches USA couldn't be reached for comment Wednesday evening.
Related
Before You Go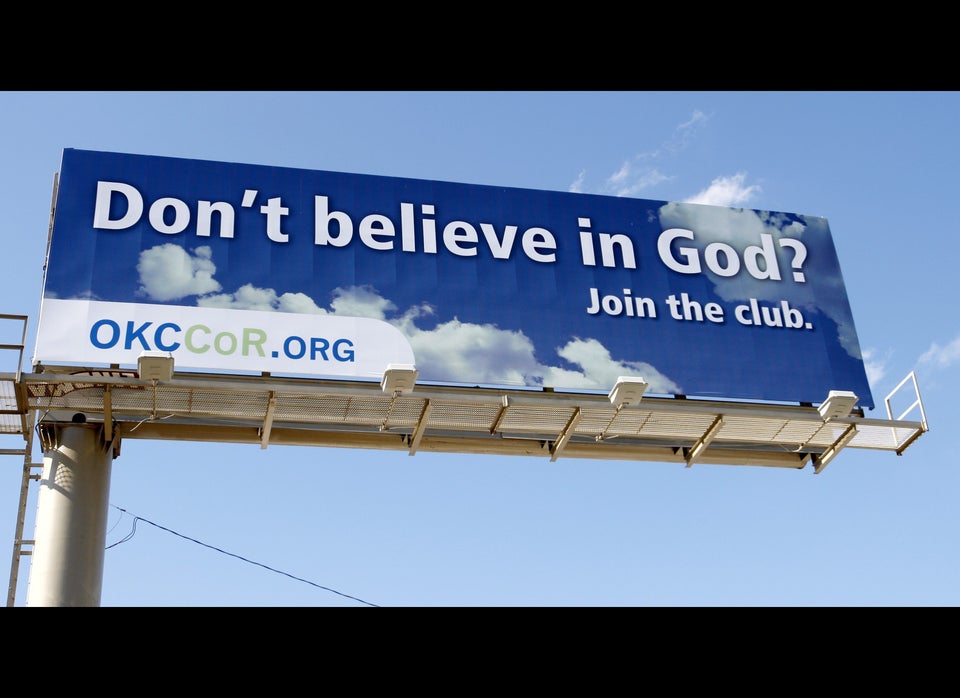 Atheist Billboards
Popular in the Community