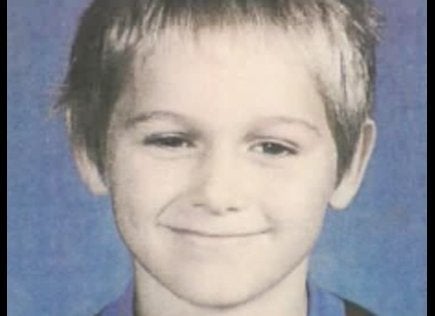 But almost all of the at least 13 people who knew about Choate's abuse didn't report it to authorities, out of either apathy, uncertainty, or fear of retribution, according to a new report in the Northwest Indiana Times.
Riley Choate, Christian's father, and Kimberly Kubina, his stepmother, are charged with murder and several other felonies after the boy's body was discovered in a shallow concrete grave earlier this year. According to authorities, the two kept Christian locked in a dog cage, fed him infrequently, and beat him regularly for the last year of his life. One such beating apparently took his life on April 4, 2009.
Perhaps closest to the beating was Christina Choate, Christian's sister. She told investigators that she was responsible for taking her brother to the bathroom, forcing him to do exercises, and occasionally hitting him herself. If she didn't, CBS reported, she believed she would be subjected to the same treatment as her brother.
Christina found Christian's body on the morning of his death, and said that Riley told her, "If you say anything, I swear to God, I'll kill you and I'll bury you with your brother." The family moved to Kentucky, and only two years later did Christina have the courage to call her stepsister, Alyssa Nieto, and tell her that her brother was dead. Nieto contacted authorities, who found Choate's body.
Three children of Kimberly Kubina's sister, Jessica Hamby, also lived in the home during Choate's imprisonment, and were aware of the torture he underwent. One, according to the Times, even wrote about it in her diary, contemplating whether to tell someone about the abuse. But she, too, was fearful that Kubina would "do to her what she did to Christian." The children were in the care of Choate and Kubina because Hamby, their mother, was addicted to methamphetamines at the time.
One person whose silence wasn't motivated by fear was Dr. Leticia Chy-Koa, Christian's pediatrician. In 2008, a year before his death, he told Dr. Chy-Koa that he was being locked in his home at night. She treated him for depression, anxiety and ADD, according to a separate story in the Times, and wrote in her notes that he was soiling himself. But she never contacted the Department of Child Services in Indiana. She refused to speak to the Times about her treatment of Choate or why she didn't refer his case to DCS.
A neighbor, Lori Wingard, was the only one of those who knew about the abuse to report it to authorities while Christian was alive. Wingard called DCS twice, according to NBC Chicago, suspecting that foul play was happening in the Choate-Kubina home. She recounts the time a case worker came to the house, but apparently didn't go in: "Kim came out of the house and stood there at the sidewalk and talked to the lady, and I just remember thinking, 'Go inside,' said Wingard."
Calling all HuffPost superfans!
Sign up for membership to become a founding member and help shape HuffPost's next chapter