As the Easter holiday approaches, several Christian leaders called for the U.S. to end the war on drugs and mass incarceration of offenders. The faith leaders said they hoped the story of the resurrection of Jesus Christ inspires the resurrection of people and communities devastated by what they said was failed U.S. drug policy.
"The policies of this failed war on drugs -- which in a reality, is a war on people who happen to be poor, primarily black and brown -- is a stain on the image of this society," said the Rev. John E. Jackson, senior pastor at Trinity United Church of Christ in Gary, Ind., and leader of the social justice organization Samuel DeWitt Proctor Conference, on a conference call Wednesday organized by the Drug Policy Alliance. "Instead of trying to help individuals heal and become whole and have the help they need, people are being stigmatized for profit in the privatized prison system in this country.
"If this resurrection season means anything," Jackson continued, "it means that people are to be loved and not used. People should be helped and not harassed and that people should be placed above profit."
The United States incarcerates more of its population than any country in the world. That's largely because of harsh sentences for certain drug-related crimes. There are roughly 25,000 drug-related convictions in federal courts each year and, according to The Associated Press, 45 percent of those are for lower-level offenses. State and local courts handle the vast majority of drug crimes.
"The ministry of Jesus the Christ was about challenging unjust systems that held individuals and marginalized communities in bondage," said the Rev. Robina Winbush, a Presbyterian Church leader and president of Churches Uniting In Christ. "He empowered his disciples to touch lives and tear down strongholds of captivity. He commissioned them to care for the most vulnerable in society and give witness to the reign of God marked by justice."
A reformed drug policy also may help right some racial wrongs, the church leaders said.
If current incarceration trends continue, one in every three black males born in America today can expect to go to prison at some point in their life, compared with one in six Latino males, and one in 17 white males, according to a recent report by the Sentencing Project, a Washington-based justice reform group.
"Racial disparities within the criminal justice system are just one manifestation of institutionalized racism in our society," Winbush said.
Sen. Richard Durbin (D-Ill.) has sponsored the Smarter Sentencing Act, which, if passed, would amend the federal criminal code to reduce mandatory minimum sentences for many low-level drug-related crimes.
Bill Mefford, director of civil and human rights for the United Methodist Church, said on Wednesday's call that his organization supports the Senate legislation, which was referred to committee January. Mefford urged Senate Majority Leader Harry Reid (D-Nev.) to make the passage of the measure a priority.
Attorney General Eric Holder last month announced support for sentencing reform that would reduce prison time for some nonviolent drug crimes.
"This over-reliance on incarceration is not just financially unsustainable, it comes with human and moral costs that are impossible to calculate," Holder said, according to The Associated Press.
The Department of Justice has said Holder's reform ideas would affect about 70 percent of drug trafficking offenders and may reduce the federal prison population by several thousand over the next five years.
"The Bureau of Prisons budget has increased every year under President Obama," Jackson said. "This increase for the Bureau of Prisons would be more than the total amount for the initial proposed private investment in his My Brother's Keeper initiative."
A recent national survey from Pew suggests Americans may be ready to end the drug war's focus on incarceration and prosecution, with 67 percent favoring policies that would provide drug treatment.
In a statement released before the call, the faith leaders outlined their goals for U.S. drug policy reform:
Repeal laws that criminalize drug possession and replace them with policies that expand access to effective health approaches to drug use, including evidence-based drug treatment.
Eliminate policies that result in racially disproportionate arrest and incarceration rates.
End policies that unjustly exclude people with a record of arrest or conviction from key rights and opportunities.
"I think of the words of the Prophet Micah where he simply says, 'What does the Lord require of you? That you do justice, love, mercy and walk humbly with your God,'" said the Rev. Edwin Sanders, moderator of Wednesday's call and senior servant at Metropolitan Interdenominational Church in Nashville, Tenn. "And I think for us, today, that translates into being involved in repealing the laws that criminalize drug possession."
Before You Go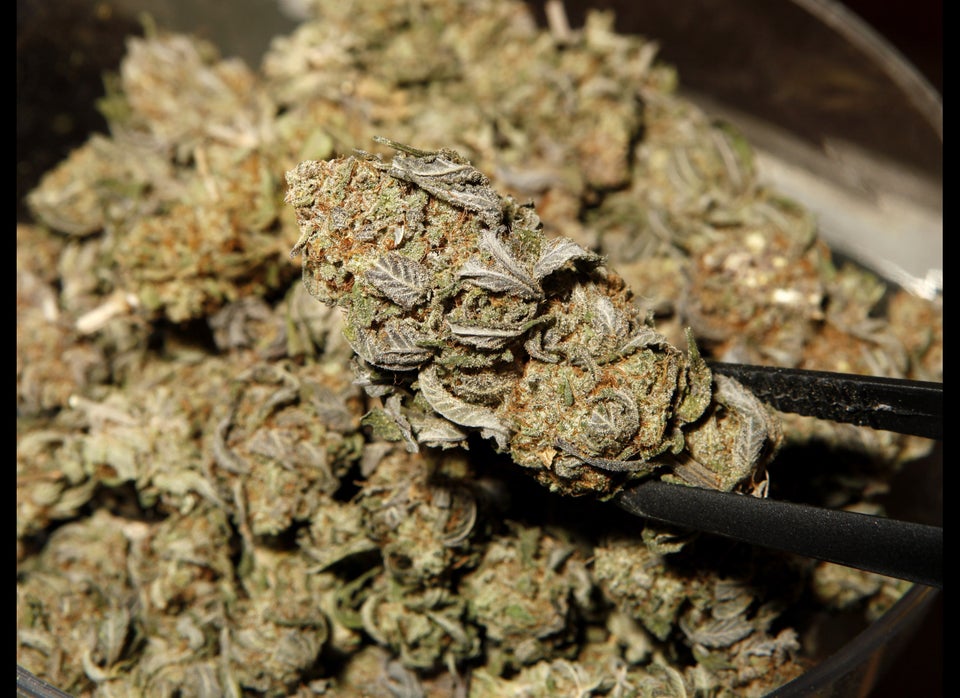 16 Facts About Marijuana And The U.S. Economy
Popular in the Community