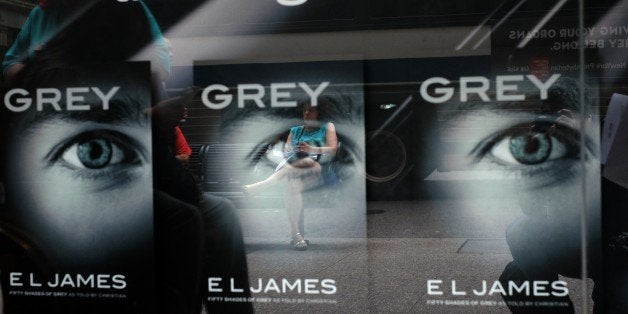 Like Jean Rhys, author of the classic Jane Eyre spinoff Wide Sargasso Sea, E.L. James has tasked herself with the job of writing an entire novel explaining the vantage point of a misunderstood character: Christian Grey, the wealthy, dominant protagonist of her own Fifty Shades franchise. Although the super-crazy-bestseller had two sequels that more or less cover his motivations, readers apparently wanted more. Grey: Fifty Shades of Grey as Told by Christian has been on shelves for less than a week, and it's already sold over a million copies. Holy cow!
Alas, readers hoping to gain some insight into the mind of a closed-off, brooding male may be disappointed, unless said readers were hoping to learn more about the specific type of white wine he prefers to guzzle, and what music he listens to at the gym (Moby. The answer is Moby). The novel is more or less the same as the original book, which was narrated by Anastasia, except instead of whimsical talk about inner goddesses, there's nonstop musing about his penis, which apparently twitches (or more) every time anything at all happens during the entire book.
Aside from that, Christian's inner monologue mostly consists of clichéd pep talk ("Showtime, Grey"). And we do learn a thing or two about his wardrobe choices. Behold, everything we learned about Christian from James's latest romantic treasure:
Calling all HuffPost superfans!
Sign up for membership to become a founding member and help shape HuffPost's next chapter