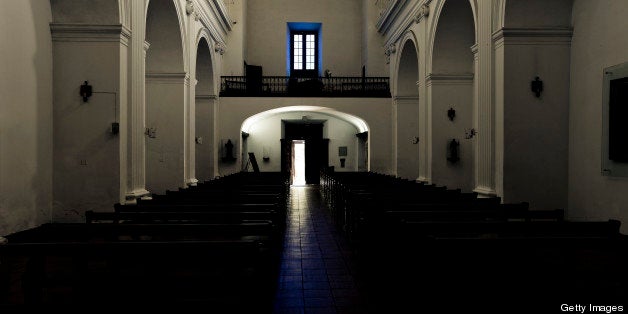 "We've decided to quit being a welcoming church," writes Lutheran pastor Rob Moss in his Neighborhood Church blog. "No kidding." After sinking time and energy into training greeters and ushers, creating nametags and percolating coffee, they have decided to go in a new direction. Instead of being a Welcoming Church, they are going to be an Inviting Church.
Moss believes that an Inviting Church is missional, taking church members outside "the comfort of our congregational home-court advantage." The focus is not on welcoming guests to church, but going out and meeting them in the neighborhood. He has discovered the truth of what Dietrich Bonhoeffer said, "The church is the church only when it exists for others."
But are being welcoming and being inviting really opposites? I don't think so. In fact, I believe that outreach is one of the fruits of Christian hospitality. As I discovered in the course of researching my book, "The Welcoming Congregation: Roots and Fruits of Christian Hospitality," truly hospitable congregations are passionate about programs that reach and serve people around them.
Welcoming congregations use their facilities to serve a world in need by offering 12-step programs, ESL classes, community gardens and hypothermia programs for the homeless. Across the country, congregations make space available for 12-step programs such as Alcoholics Anonymous, Narcotics Anonymous, Sexaholics Anonymous and other groups for people who want to stay sober and help others achieve sobriety. This is a quiet ministry of hospitality, one that is rarely publicized because of the need to protect the anonymity of people struggling with addiction, but it is a strong sign of a welcoming congregation's desire to support healing work.
Churches that offer ESL classes want to help newcomers to the United States become proficient in English, and include them in a community of faith. Riverchase United Methodist Church in Hoover, Ala., is preparing to expand its facility to include new classrooms, a student worship center, and a computer lab for ESL classes. Senior pastor Jim Savage links much of Riverchase's growth to the church's three Hispanic worship services on Fridays, Saturdays and Sundays.
At Vienna Presbyterian Church in Vienna, Va., church member Emelie Parker offers a "Friendship Class" for the intellectually disabled and mentally challenged. The class was started for a few children with Down Syndrome and has grown to include 28 students with various disabilities. The class always includes the sharing of good news and bad news, a Bible study based on the Sunday sermon, and a closing prayer. The class has grown because students bring their friends, and because the group has done its own outreach to the community by participating in walks to fight world hunger.
In the battle against hunger, community gardens on church grounds provide opportunities for church members and neighbors to work in the soil, side by side, and to grow food for the needy. In Billings, Mont., the community garden of St. Andrew Presbyterian Church is described as "a place not only to grow food but to grow relationships." Members of the church see the garden as a place of hospitality, where neighbors are welcome to plant seeds for vegetables as well as "new seeds for their personal growth." Since the church has a mission to feed the hungry, all gardeners are asked to donate 10 percent of what they grow to a mission organization, a service organization, or a person in need.
Hospitable churches are also distributing goods and making connections with needy neighbors. In Burke, Va., St. Stephen's United Methodist Church reaches out on the fourth Saturday of every month, distributing clothing, children's books, toys, baby items, food and diapers to those who are in need. This program is part of a larger outreach program of the United Methodist Church called "Grace Ministries," involving churches in six Northern Virginia communities. Not only are individuals and families being assisted, but relationships are developing. One recipient said, "Grace Ministries meant a lot to me because there have been many times when I had nothing." She is now a volunteer in the program.
Members of welcoming churches also invite neighbors into their homes because, as the pastor of a Los Angeles church says, "The front door of the home is the side door of the church." In Raleigh, N.C., the First Assembly of God has a number of home-based small groups in the city of Raleigh, but also in Cary, Clayton, Durham and Youngsville, expanding the ministry of the church through several counties. The focal points of these groups range from singles to parenting to Bible study to current events, with one offered in Spanish and another taking place online, via email and blogs.
Members of the Iona community in Scotland have long felt that the heart of their ministry beats in the family groups that meet in their homes, far from the Isle of Iona. These regional groups meet once a month, for intercessory prayer, Bible study, discussion of contemporary issues through the lens of Scripture, and a closing communion or agapē feast. These gatherings provide a foundation for outreach to the community, usually around issues of social justice; some members are befriending young offenders in the penal system, and others are working on HIV/AIDS education.
People who open their homes to guests are going to do a much better job of opening their churches to strangers, since they have developed skills for welcoming people in their personal lives. Extending an invitation, setting up an appropriate site, preparing food and drink, and planning a program at home are all aspects of home-based hospitality that translate very well into church-based hospitality.
They also reflect the will of God for us to go beyond our comfortable gatherings of friends and like-minded neighbors, and extend invitations to those who are different from us. And that is why being welcoming and being inviting are not opposites -- in fact, they are both key components of the practice of Christian hospitality.
Support HuffPost
The Stakes Have Never Been Higher
Related
Popular in the Community