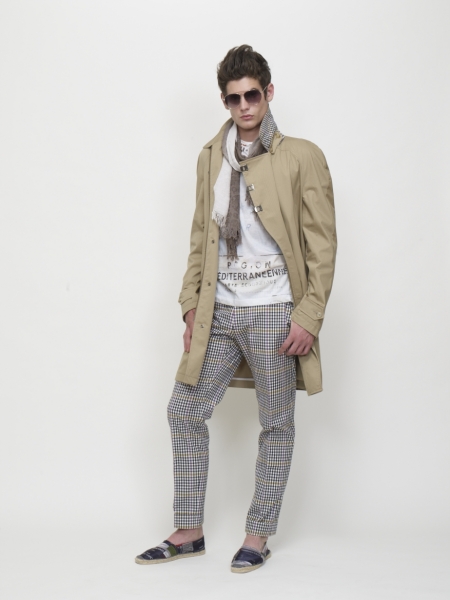 For as long as one can remember -- Lacroix has been the stuff of dreams. The rich fabrics, lush colors and grand silhouettes all seemed ripped from a requiem.
Then the nightmare started.
Beautiful, well crafted, couture will always have a home in the heart of a fashion editor -- but not necessarily in the closet of a customer. Clothing so exquisite -- and expensive -- they could only be enjoyed by a privileged few proved to be a business model that pushed the couture house to the brink more than once.
But there was some steel in all that silk and the house of Lacroix forced it's way back to solvency with the help of investors. Along the way, the lablel's namesake and driving force Mr. Christian Lacroix himself exited, and Sacha Walckhoff -- who has been with the house for 18 years -- was named Creative Director.
I was invited by on what I assumed would be a routine 15 minute press appointment to meet Walckhoff and review his first debut for the label, the Spring 2011 Menswear collection.
Fifteen minutes morphed into an hour long tete-a-tete. After drawing with the imagination of a poet, the London-loving, Paris-bound Dandy who inspired the Spring collection, we had a frank talk about the past, present and future of Lacroix, which could include a collaboration with Target or H&M if Walckhoff has his way.
Herewith our Q&A.


How would you describe the house today?
It's a small team of people, who work closely together at every step. Lacroix is known for mixing a patchwork of fabrics, but behind the scenes it's also a patchwork of different people. It's a house of tolerance.

How would you describe the house's appeal?
You go to any country and they know the name, they know the brand, they know its bright and colorful and bold. Trying to express those same feelings and make it something for everyone was very difficult until now because costs of creating each garment made it accessible only for a few people.

The decision to halt the women's collection and sell men's exclusively... why?
We are beginning with men's because people don't expect us do to men's. We will follow up with accessories for women, shades and opticals and even a line of stationary. These extensions make sense because it widens the audience of people who can experience Lacroix.

Any concern that all these extentions will dilute the line?
No. Not at all. I'm really focused on what I'm doing and hope it will make sense.
Between the possible shuttering of the line and the beginning of your tenure as Creative Director, it seems like a rocky few months. Did it ever make you dislike the job?
It's my life. Its never ending. You don't begin at 9 and end at 6. You are always dreaming. You wake up at night and jot down inspirations. I've never been tired of this job and I never will be. It's more than just creating clothes. When you love fashion it doesn't matter what obstacles come with it. It's a real pleasure and an honor to do this.
Are there times when it all feels frivolous?
I came across in a book somewhere that three psychological reasons why humans wear clothing. These reasons -- in no particular order are: hide nudity, to look good in order to seduce and protection from the elements. Of all three the second reason -- vanity and seduction -- is the leading reason for clothing. Knowing this gives so much meaning to my work. This whole process is all about seduction. Seducing the customer, who in turn seduces their target.
Are you proud of what you've accomplished with this debut collection?
I'm feel more relieved than anything. What I want is for the brand to go on. Going through our recent difficulties was really sad. For 18 years Lacroix has been my life. I want this house to continue and to prove that we have not been wrong and this brand can make it.

Would you consider a collaboration with mass retailers like Target or H&M?
Yes why not. Because its part of what I've been wanting: to get people to touch Lacroix at last. Brands like Target and H&M would be ideal for that. Of course, I won't do a couture dress for a mass retailer, but to do a small collection for one would be lovely. I'm open to it. Lacroix is luxury, but the brand's DNA, as the Spring 2011 collection shows, is about mixing the luxurious and the rough. This creates a large territory to play and craft something everyone could love.
Related